"Upskilling"—investing in the skills of front-line workers—has upfront costs, but it can save employers time and money in the long run, says Jaime Fall, director of UpSkill America at the nonprofit Aspen Institute.
The program is the result of an Obama administration initiative and is now led by a coalition of business and education organizations. According to its website, Upskill America aims to expand opportunities for employees while improving the national economy.
When employees are always learning, it has the effect of reducing turnover and improving employee retention, helping a company keep pace with or outdo its competition, Fall said. The same goes for internal promotion rates: "When there's an opening, is there someone ready to step into that role? Or do you have to spend time and money on an outside search"?
| | |
| --- | --- |
| For more information on "upskilling" employees, join Jaime Fall at THRIVE 2017. Fall will present: "Upskilling to Avoid Labor Shortages and Save Big on Long-Term Labor Costs," on Thursday, May 11, at the Paris Hotel in Las Vegas, Nevada. Click here to register. | |
Having someone ready can reduce the number of days that vacancies go unfilled—a situation that brings lost productivity, according to Fall. Finally, upskilling also allows companies to retain employees who fit within the company culture; it's much less risky than bringing in someone new, he said.
And while upskilling can be used in many circumstances, Fall said it can have particularly big returns if a company:
Is looking to find more efficient processes;
Finds that technology is playing an increasingly important role in the workplace;
Is in an industry that is under tough competitive pressure or that evolves quickly;
Wants to find new ways of doing business;
Is looking to offer new products and services; or
Has employees who frequently interact with customers.
The implications of the final factor are related to the rise of social media, Fall explained. Customers rarely take the time to leave good reviews but if they encounter a rude receptionist or wait too long to be served, they go right to social media to complain.
Even job applicants have taken to the Internet to criticize companies, leading some employers to completely revamp their hiring processes to ensure that everyone comes away from the process with a good impression of the company, he said. If employers aren't training forward-facing employees in customer service and their respective subject areas, "they're setting themselves up for a social media storm."
Implementing 'Upskilling'
If these factors apply to your workplace—and you're interested in more than just making next quarter's financial projections—the first and most important step is to create a "culture of learning," Fall said.
This means going beyond the traditional tuition reimbursement offering. Too often, employers provide new hires with information about that benefit and no one ever thinks about it again, according to Fall. "It's unfortunate," he said, but very few employees take advantage of these programs.
Instead, employers need to market the benefit and remind employees when they become eligible to participate, Fall said. Or, to demonstrate that your company is serious about its offering, make employees eligible on day one. And then regularly market its availability and tell employees how they can take advantage of it.
Moreover, employers should adopt a system that rewards not only the employees who use the program but also the managers who develop the employees under them, Fall recommended. In some cases, managers feel that it isn't in their best interest to have employees undertake continuing education; perhaps because the training comes out of their budget or the person needs to attend class during work hours. "Companies just have to be really careful [to] make sure managers are on board and seeing some of the benefit," Fall said.
Finally, employers should track employees' participation, Fall said: If you don't know which employees are keeping their skills up to date and learning new things, you can't advance them.
Jaime will discuss upskilling and its potential benefits in his presentation, Upskilling to Avoid Labor Shortages and Save Big on Long-Term Labor Costs at BLR's upcoming THRIVE conference, being held May 11-12 in Las Vegas. THRIVE's 2017 conference brings HR professionals together with the most influential thought leaders in the country to have productive, progressive conversations around how to drive organizational growth and talent transformation through human capital management. Learn more at thrivelive.blr.com.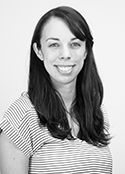 Kate McGovern Tornone is an editor at BLR. She has almost 10 years' experience covering a variety of employment law topics and currently writes for HR Daily Advisor and HR.BLR.com. Before coming to BLR, she served as editor of Thompson Information Services' ADA and FLSA publications, co-authored the Guide to the ADA Amendments Act, and published several special reports. She graduated from The Catholic University of America in Washington, D.C., with a B.A. in media studies.