Employers are increasingly turning to analytics to aid in recruiting, hiring, and more. But with the federal government eyeing "big data" as a potential area needing nondiscrimination enforcement, experts say HR must ask the right questions before buying any products or services.
A recent study, from consulting firm Deloitte, found that one-third of employers are using some form of data to make HR decisions. And with its ability to predict employee behavior, more likely will join, the firm concluded in its 2017 Deloitte Global Human Capital Trends.
But the U.S. Equal Employment Opportunity Commission (EEOC) has warned employers that they must be responsible consumers. "This is a tool that can … either help advance equal employment opportunity or it can be another thing that causes a lot of litigation," Commissioner Charlotte A. Burrows said at an October 2016 agency meeting.
Despite the risks, "big data analytics work and they're not going away," Marko J. Mrkonich, a shareholder at Littler Mendelson, told the commissioners at that meeting. Kathleen K. Lundquist, president and CEO of APTMetrics, Inc., agreed. "There really is no doubt that big data is the future of HR," she told the group. "But it presents a future that's both promising and scary."
EEOC Is Paying Attention
The EEOC's meeting to examine the use of big data in employment took place before President Trump took office, but that doesn't mean the commission will now look the other way on this issue.
Trump's acting chair Victoria A. Lipnic helped organize that meeting and said she believes the EEOC needs to understand how big data is being used in the workplace. It will be a challenge, she said, "but as I see it, that is the core of our responsibilities; ensuring that our understanding of today's workplaces and that our interpretation and administration of the law are as current and fully informed as possible."
The analytics discussion generally involves two types of products and services: (1) off-the-shelf bundles of information mined from social media, consumer data, etc.; and (2) experts that analyze an employer's workforce. The first could allow an employer to, for example, use job applicants' zip codes to predict the length of time they would stay at the company. The second could, for example, track employees' movement and conclude that workers are more productive in the afternoon if they eat lunch in groups.
At the EEOC's meeting, commissioners asked data experts how employers can ensure that they're using data to reduce bias and discrimination—not increase it. (For example, the zip code algorithm discussed above could have a disparate impact based on race.) Aside from making sure that products have safeguards, the experts said that data is supposed to be used in conjunction with human decision makers; it should be used to help recruiters make better-informed decisions.
The EEOC asked what its next steps should be with respect to HR and big data and received two suggestions: issue guidelines for testing products and develop best practices for implementation.
Key Risks
During a presentation at the Society for Human Resource Management's (SHRM) employment law and legislative conference last month, Mrkonich and two other Littler attorneys discussed the risks employers face when using analytics, especially the disparate impact its use could have on protected classes.
To prevent that and other problems, HR needs to be both responsible consumers and responsible users. Employers have access to high-quality information and great tools to analyze it, but they'll always need a human decision maker involved, Corinn Jackson said. These tools are being developed by data scientists who may not even know about the EEOC, Jackson explained. Zev J. Eigen agreed: "Data scientists don't know HR."
When adopting analytics, employers should avoid copying competitors. Just because another company is using a certain product or vendor doesn't mean it's safe, the Littler attorneys said. And when you're considering vendors, ask the right questions (more on this below). Finally, employers also need to watch for future developments, the speakers said. The EEOC is very likely to get involved, they warned, and Congress may as well.
Questions to Ask
While an employer may already use big data in other departments like finance and marketing, its use has to be adopted differently in HR, the experts from SHRM and the EEOC meeting said. Employers must remember that this information comes from real people who may be protected by federal nondiscrimination laws.
This means that HR needs to be included early in the process and needs to ask the right questions. As Commissioner Burrows said during the agency's meeting, you need to know: "Am I getting a good product or am I buying a lawsuit?"
Questions for Decision Makers
What are the questions we're trying to answer with data?
Are managers properly trained on using data?
Is our legal counsel trained on its use?
Will we inform candidates of its use?
Questions for Prospective Vendors
What is being measured?
How do we know that we're increasing diversity?
What safeguards can we put in place to prevent discrimination?
What evidence has been collected to establish the job-relatedness of the algorithm? Can we see the study?
Does the product or service include an audit?
What kind of ongoing monitoring do you provide?
Will you help us defend discrimination claims or indemnify us against claims?
Eigen noted that you may not get the answers you want to every question—particularly the indemnification request—but you at least need to ask the questions to fully understand your risk. Selecting a vendor requires a lot of diligence, he said.
"Don't let people hand-wave because you don't fully understand it," Eigen cautioned. "Ultimately, the responsibility is on you."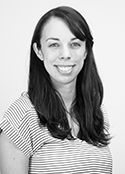 Kate McGovern Tornone is an editor at BLR. She has almost 10 years' experience covering a variety of employment law topics and currently writes for HR Daily Advisor and HR.BLR.com. Before coming to BLR, she served as editor of Thompson Information Services' ADA and FLSA publications, co-authored the Guide to the ADA Amendments Act, and published several special reports. She graduated from The Catholic University of America in Washington, D.C., with a B.A. in media studies.