A federal district court has dismissed a website accessibility suit filed against Domino's Pizza because the U.S. Department of Justice (DOJ) has not yet finalized regulations on the issue. The decision, however, does little to help businesses decide on a course of action, according to one expert.
The DOJ believes that the Americans with Disabilities Act (ADA) already covers websites and the agency has, for several years, been planning to issue regulations to that effect. The DOJ expected to propose such rules for state and local governments (which are subject to the ADA's Title II) in July of this year, according to the agency's most recent regulatory agenda, issued last fall while President Obama was still in office. The DOJ did not set a goal date for regulating private entities under Title III.
Since then, however, President Trump has ordered agencies to rescind two rules for every new one issued, which means the web accessibility regulations could be in jeopardy.
How is 'Accessibility' Defined?
| | |
| --- | --- |
| For more information on website accessability, attend the virtual workshop "Website Accessibility: HR's Strategic Guide to Meeting Digital Accessibility Standards Amid Increased Regulatory Oversight," learn more below. Click here to register. | |
In Robles v. Domino's Pizza LLC (No. 2:16-cv-06599 (C.D. Cal. March 20, 2017)), an individual alleged that Domino's is violating the ADA because its website and mobile app are not in compliance with version 2.0 of the W3C's Web Content Accessibility Guidelines (WCAG 2.0).
The DOJ often requires entities to adhere to some version of that standard in settlements but it has not yet issued final regulations codifying the guidelines. In Robles, the plaintiff argued that the DOJ's use of the standard means that all businesses subject to the ADA must comply with it.
But that "flies in the face of due process," the court said; "little or no deference is owed to statements made by the DOJ through documents filed in the course of litigation with regulated entities." Moreover, while plenty of courts have held that the ADA requires websites to be "accessible," none have required a business to satisfy a particular WCAG standard, the court said.
"While this decision strengthens the hand of those website owners that want to fight against the flood of litigation in the area, it likewise strengthens the hands of vendors that have denied any obligation to website owners to comply with WCAG 2.0," David Raizman a shareholder at Ogletree Deakins, wrote in a client alert. "It also leaves those that wish to improve the accessibility of their websites with continued uncertainty over just how to do that—an issue about which our clients are justifiably seeking guidance."
The court concluded its opinion by calling on Congress and the DOJ to clear things up. They should "take action to set minimum web accessibility standards for the benefit of the disabled community, those subject to Title III, and the judiciary," the court said, dismissing all of the plaintiff's claims.
Employer Takeaway
Whether or not the federal government takes any action on web accessibility during the next few years, business can probably expect to see these private lawsuits continue, according to Minh Vu, a partner at Seyfarth Shaw.
Such complaints have increased drastically in recent years and the trend shows no signs of stopping, she wrote in a blog post. In 2016, plaintiffs filed 6,601 suits against Title III entities, according to Seyfarth. That's a 37% increase over the previous year, the firm reported. Of those, more than 250 included claims regarding websites or mobile apps, the firm found, and that doesn't even include the "hundreds, if not thousands, of demand letters plaintiffs sent to businesses asserting website accessibility claims."
If businesses want to get started on website accessibility now, the DOJ's continued use of WCAG 2.0 AA means that standard is probably the best option, Vu said.
For more information, see Website Accessibility Suits Increase, But Regulations' Fate Unclear Under Trump.
Is your organization's website fully accessible to disabled individuals? If it's not, you could be subjected to costly legal scrutiny, as lawsuits challenging inaccessible websites proliferate and the Department of Justice is in the process of creating website accessibility standards.  
Join us live on April 18, when a panel of skilled employment attorneys and website accessibility design experts will present a comprehensive virtual workshop on emerging legal risks companies like yours now face. You'll also learn more about HR's role in conducting a website accessibility audit to determine whether it meets or misses the mark concerning your recruiting and other employment practices.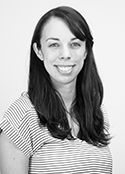 Kate McGovern Tornone is an editor at BLR. She has almost 10 years' experience covering a variety of employment law topics and currently writes for HR Daily Advisor and HR.BLR.com. Before coming to BLR, she served as editor of Thompson Information Services' ADA and FLSA publications, co-authored the Guide to the ADA Amendments Act, and published several special reports. She graduated from The Catholic University of America in Washington, D.C., with a B.A. in media studies.