by Miranda Nicholson, Director of HR, Formstack
From paid time off (PTO) requests to performance reviews, most HR professionals understand that communicating with employees can be challenging. You need to collect a wealth of information from your workforce—which often requires tracking down individuals and sending countless reminders—but you also need to avoid over-communicating so they aren't bogged down under a flood of emails from HR.
Here are four tactics you can use to cut down on administrative tasks, limit massive e-mail communications, stay organized, and improve HR communication for your business.
1. Make Employee Request Forms Easily Accessible
Excessive paperwork is a typical pain point for employees and Human Resources when it comes to forms like PTO requests, expense reimbursements, office supply requests, complaint forms, and others. The significant amount of time employees spend on such tasks is also a tremendous loss of productivity.
One way to remedy this is to create an online employee portal that allows for all these forms to be stored in one easy-access location. This keeps employees from having to dig through their inbox or hunt down hard copies of forms that float around the office, and HR professionals don't have to worry about tracking the progress of each form submission. It's a streamlined process for all.
2. Use Mobile-Friendly Communications
Employee engagement is becoming increasingly important in the business landscape. According to Access Perks, disengaged employees cost employers between $450 and $550 billion annually. In order to improve this, HR teams need to think outside the box to connect with employees.
Employees expect concise information that's instantly accessible from their mobile devices, so your team should invest in virtual messaging and mobile employee engagement tools. People expect to be able to access and interact with anything and everything on their mobile device, and HR communications are no different.
3. Integrate an E-mail Marketing System
E-mail marketing systems aren't just for marketing teams—HR can use them for internal communications as well. With such a captive audience, HR teams should integrate employee data into automated e-mails for events like birthdays and work anniversaries. This boosts morale by making employees feel special and also saves time for HR teams—it's a win-win.
4. Automate Reminder E-mails for Deadlines
This is another instance in which an employee portal will aid in document collection. New hires are often required to submit I-9 forms, copies of identification, and other employee authorization documents. In the initial craze that comes with starting a new job, these documents often fall by the wayside, delaying essential HR functions.
To avoid the hassle of following up with individual employees and tracking each form, HR departments can implement a system to track form completion progress, view which employees have submitted the form, and send automatic reminder e-mails to other employees to ensure they meet the submission deadline. This also eliminates the possibility of over-communication and reduces stress on both sides.
These are just a few ways technology can streamline communication between employees and the Human Resources department. Take the time to discover which methods work best for your team and you'll see improved communication across your business.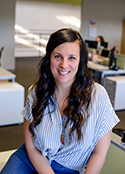 Miranda Nicholson is the Director of HR at Formstack, overseeing the acquisition, onboarding, and retention of current and to-be Formstackers.