Whether borders are open or closed, governments are left or right, developing a workforce plan that accounts for change and unforeseen circumstances is key for companies to remain competitive in a slow-growth environment during times of uncertainty.
As technology continues to disrupt, the life cycle of skills is shorter than ever before and change is happening at an unprecedented scale. The economic outlook ahead may appear more positive but the geopolitical landscape remains uncertain.
While each geopolitical event—the UK Brexit vote, the U.S. election, even the uncertainty around the recent Dutch elections—is an exceptional circumstance, the challenges presented to employers are not unique.
Workforce planning traditionally focuses on the known, rather than the unknown. This may work well for the short term, but what happens when political upheaval affects resources? Or demographic shifts impact talent pools?  If one variable changes, workforce plans can be fundamentally altered overnight.
Understanding the landscape of talent availability, planning for variation in demand, and developing a framework that accounts for large-scale change and the impact of unexpected circumstances is an important element of future-proofing a business.
Here's how you can prepare your business for an uncertain tomorrow:
 1. Nurture Learnability 
Rarely a day goes by without news of digitization, artificial intelligence, and virtual reality impacting employees. Business leaders, politicians, and economists want to quantify technology's impact on employment—but no one knows for sure what the outcome will be.
A key role for HR is to invest in employees' skills to increase the resilience of the workforce and the wider organization. Now is the time to hire for and nurture learnability—the desire and ability to learn new skills to stay relevant and remain employable. Fast-tracking the upskilling and reskilling of existing employees will ensure you have a workforce with the skills required for the future. Learnability helps guarantee your workforce is ready for new jobs and new skills.
2. Be Nimble, Be Quick, Be Agile
Economic prosperity or decline can have significant impact on availability of talent. While a downturn can result in talent outpacing demand, during times of prosperity the opposite is true, meaning that employers have to be more creative and agile to attract and retain those people with the skills they need to succeed.
These scenarios raise important questions: What other options are available if skilled workers are not? How does your business adjust to account for a sudden surplus, or conversely, a lack of, talent?
HR should have a place at the table to help identify a range of realistic variables and develop a workforce plan that accounts for fluctuations in demand, productivity, and talent availability. Businesses should ask themselves: How are we ensuring we are agile enough to compete?
3. Anticipate Demographic Shifts
Changing demographics are dramatically impacting the workforce. People are living and working for longer, meaning that many employers now have 5 generations to motivate and manage.
The movement of people is also impacting talent pools. Europe is seeing its biggest population influx since World War II, and many bring valuable skills to a region challenged by an aging population and talent shortages.
Organizations need to anticipate demographic shifts and help individuals utilize or develop new skills and find meaningful work. This not only enables individuals to achieve their potential, but also organizations to develop a workforce with the right-skills, which is diverse and inclusive.
 4. Capitalize on Workforce Data
Digitization and demand for workforce data are playing a more critical role in enabling better, faster, and more efficient decision-making through greater labor market transparency. Employers also continue to rethink the structure of work and which roles are done where, by whom, or by what.
Data insights from the workforce—such as in-demand skills, changing demographics, and regulatory issues that affect talent availability and costs—are shifting the practise of HR from an art to a science. HR managers can now provide business leaders with data-driven recommendations that ladder up to core business objectives.
It is crucial for HR leaders to capitalize on market and data driven insights and put into action a more coordinated, precise talent strategy aligned with real-time business needs.
5. Keep Calm, Hold Steady
The knee-jerk reaction to uncertainty is often adopting a wait-and-see posture or worse, panic. But, the current environment of certain uncertainty is nothing new; we are used to a post-recession landscape that is less stable and harder to predict, organizations should maintain business as usual until proven otherwise, remaining calm and steady.
In this choppy environment with the dichotomy of achieving today's targets while preparing for tomorrow, staying true to the heritage, values, and culture of a business has never been more important.  Employees want to know what an organization stands for; this holds true in times of uncertainty more than ever.
Make sure your workforce strategy reflects your business strategy and corporate DNA. Anticipate and plan for change while staying true to your values and business purpose.
Uncertainty is here to stay; now is the time to develop a strategy that accounts for large-scale change and the impact of unexpected circumstances. This is the key to future-proofing business success and creating a resilient, agile, and right-skilled workforce.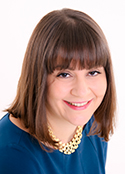 With 16+ years' experience in recruiting operations and workforce solutions, Victoria Bombas' current role is as a regional leader for ManpowerGroup Solutions Recruitment Process Outsourcing (RPO) across Europe. Bombas consults with clients to design and implement customized, end to end talent acquisition programs. Bombas ensures the ManpowerGroup organization delivers clients' recruiting needs across multiple countries and regions, with consistency, operational efficiency, and disciplined execution.