Does your company have valuable trade secrets, which could do some significant damage to your bottom line if those secrets got out? If so, you may want to consider an employment contract or confidentiality agreement so those secrets remain secrets. Or, you can follow in the footsteps of one of the most popular television shows of its time … Game of Thrones. (Small spoiler alert if you aren't caught up to season 6.)
In a recent interview with the United Kingdom-based The Times, actress Gemma Whelan—who plays Yara Greyjoy on the show—revealed how she almost lost her job after updating her Spotlight credits page to include the role … before the show even aired. She says:
"The first lesson I learnt was when I first got the job. No one told me to keep quiet about it. I just thought it was normal to pop it on my Spotlight entry, so I wrote on my CV, 'This summer Gemma will be playing Yara Greyjoy in Game of Thrones.' And the internet went nuts. One of the lovely, lovely producers on Thrones called me into his office and said, 'This is very serious. We almost can't employ you because of this.'"
Fortunately, Whelan was able to keep her job, as you may know if you've been keeping tabs on the series. The early days of Thrones have taught the producers a valuable lesson—jump through hoops to keeps the secrets from being leaked to the masses. And what hoops are producers, and the actors, going through?
Nathalie Emmanuel, who plays Missandei, recently explained to Express the hurdles the cast has to go through in order to receive their scripts. Note, for any company out there who's looking to keep their company secrets secret, you may want to take a page out of this playbook!
Emmanuel says, "They've definitely tightened up who has scripts and how we're given them. You have to look at it digitally. They won't send it to us unless our emails have a two-step verification [security process]. You might get given rehearsal notes on set, but you have to sign for and return them before you leave." The actress says if you fail to give the notes back, they'll chase you down for them!
Emmanuel adds that keeping Jon Snow's resurrection from this past season was one of the hardest secrets to keep. "I was so sick of people asking me about it. We're not allowed to say but I also wouldn't want to." And we're glad you didn't! The show wouldn't be the same if they replaced Missandei so late in the series.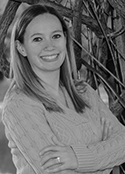 Melissa Blazejak is a Senior Web Content Editor at BLR. She has written articles for HR.BLR.com and the HR Daily Advisor websites and is responsible for the day-to-day management of HR.BLR.com and HRLaws.com. She has been at BLR since 2014. She graduated with a BA of Science, specializing in Communication, from Eastern Connecticut State University in 2008. Most recently, she graduated in 2014 with a MS of Educational Technology.