The term "robo-adviser" is used to describe a wide range of digital advice and technology solutions. But while robos have been touted as the wave of the future, there's no denying that retirement investors still see value in the expert advice of human advisers. There may be potential benefits for defined contribution (DC) plans to adopt digital technology—the key for consultants and plan sponsors is to determine the right balance between robo efficiency and human expertise. Digital advice is becoming more popular with retail investors. But is it right for your retirement plan?
Location, Location, Location
The days of getting plan participants together for a meeting in the lunchroom are winding down. More employees work from home or are scattered across multiple offices and remote locations. Robo technology may offer additional ways for advisers to service DC plan participants by broadening their reach in a scalable manner. An adviser may not have the capacity to personally visit with 500 people, but 500 people can certainly gain access to a digital platform from their home or work computer.
Delivering Holistic Advice
Digital platforms can offer automated account aggregation, meaning they can collect participant information on financial assets outside the plan (if participants choose to provide that information). Having access to that level of detail enables robos to provide holistic "advice" on a mass scale. For example, the technology can provide some portfolio guidance to participants with small balances who typically don't have access to an adviser.
Custom Portfolios Unique to Each Individual
Digital technology may offer more-personalized asset allocation models than the usual off-the-shelf versions. Advisers can oversee and place parameters on the fund selection, with the robo generating the final output. The robo would simply take all of a participant's information, run it through the system, and design an asset allocation model based upon where he or she is already invested, the participant's current assets, and where each is in his or her lifecycle. We currently see similar solutions provided by managed account providers, but robo platforms could even use funds outside the core lineup.
The Value of Human Relationships
While digital solutions can play a valuable role in automating and simplifying various elements of the investment process for participants, human relationships are still key. Though younger generations have a greater preference for taking advantage of technology, investing for retirement can be an emotional task, and many investors may not be willing to hand over their nest eggs to a "robot." Digital technology can help advisers spend more time focusing instead on higher value-added services and plan design.
Bottom Line
As robo advice takes further hold in the retail market, we may see spillover into the DC plan market within the next few years. Robo advice is certainly better than getting no advice at all. It's not widely seen as a replacement for, but rather a complement to, human expertise.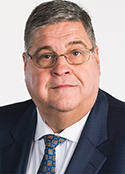 Jeffrey Hemker, national manager, Retirement Division, Invesco, has more than 30 years of experience in the retirement industry and has been a featured speaker at educational seminars and industry events. He is a Certified Investment Management AnalystSM.