Does your company utilize teambuilding exercises to create a more cohesive group of workers? If your company was relying on trust falls, blindfolding, and "human chains" as part of its teambuilding exercises, it sounds like you're in desperate need of an exercise overhaul.
If you're looking to spruce up your teambuilding exercises, The Dinner Detective may be right up your alley! The Dinner Detective is similar to other "who done it"-type shows, but unlike the competition, The Dinner Detective shies away from "obvious actors, hokey scripts, and stilted dialogue."
You and your coworkers will be wined and dined at a Dinner Detective show near you, or you can have the cast come to your company for a private show. What sets The Dinner Detective apart from the rest?
According to the website, "Our immensely popular murder mystery shows are set in the present day. Unlike other murder mystery dinner shows (or just dinner shows in general), with The Dinner Detective, you and your guests will not find themselves staring at cheesy costumes, there will be no recited campy dialogue and certainly no hokey song and dance. Our performers are dressed just like everyone else, leaving all of the guests to suspect who is a part of the show and who is not! All scripts are based on actual cold cases and are created in house.
"From the get go, the guests are seated with the performers and may not even realize it until they die …  the performers, that is! Our Detectives enter the room, proceed to interrogate guests, find clues and start the investigation. This allows our guests to socialize with and interrogate each other, while deciphering real life-based clues. This adds to the interactive and unique nature of our events. At the end of the night, prizes are awarded to the Top Sleuth who solves the crime!"
The Dinner Detective started in Los Angeles, California, in 2004 and has opened over 30 locations across the United States. The Dinner Detective Interactive Murder Mystery Dinner Show prides itself on being intriguing, unique, and challenging, and it employs professionally trained actors who specialize in improvisational theater.
Your employees will learn how to work together as they try to solve "who done it." And, if a murder mystery doesn't sound like your idea of a good time, AdVentureGamesInc.com also offers similar teambuilding activities. When planning your company's teambuilding activities, you may want to choose something that is memorable and has a long-lasting effect. Employees will not only learn how to work together but also will have a great time doing so!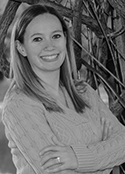 Melissa Blazejak is a Senior Web Content Editor at BLR. She has written articles for HR.BLR.com and the HR Daily Advisor websites and is responsible for the day-to-day management of HR.BLR.com and HRLaws.com. She has been at BLR since 2014. She graduated with a BA of Science, specializing in Communication, from Eastern Connecticut State University in 2008. Most recently, she graduated in 2014 with a MS of Educational Technology.