Are certain classes of your employees routinely working overtime? If so, are they properly classified as exempt or nonexempt? Wage and hour class actions continue to be large thorns in the sides of many employers, and this recent decision serves as a good reminder of how critical it is for you to review your overtime policies, job descriptions, and exemption classifications.
Trial Court Denied Motion for Class Certification
Tristar Risk Management provides claims administration services to its clients, with a focus on handling workers' compensation and general liability claims. In each of its nine offices throughout California, Tristar generally employs a branch manager, claims supervisors, administrative staff, and three levels of claims examiners.
The claims examiners are responsible for managing 150 to 180 workers' comp files, investigating and fixing claims, managing medical treatment and billing, setting reserves, settling and finalizing claims, documenting all actions, and communicating with clients and claimants. Under Tristar's acceptable work guidelines, claims examiners can choose between a schedule that requires them to work 7.5 hours per day or an alternate work schedule that permits them to work 8.33 or 8.5 hours per day in exchange for receiving every other Monday or Friday off.
In February 2014, "Katrina" and "Susan," both claims examiners, filed a putative class action against Tristar alleging it required them and other claims examiners to work more than 8 hours per day or 40 hours per week but failed to pay overtime. They asserted that Tristar misclassified them and others as exempt from overtime pay and therefore failed to pay them overtime compensation. Katrina and Susan also alleged violations of the California Unfair Competition Law (UCL).
Katrina and Susan filed their motion for class certification in November 2014. The trial court held that while the alleged misclassification of workers is suitable for class treatment, misclassification alone isn't sufficient. Rather, Katrina, Susan, and the class members had to establish that in addition to being misclassified, they worked hours or days that required overtime pay.
Katrina and Susan failed to establish that Tristar had a "generally applicable policy or practice" that required employees to work overtime, and therefore, they couldn't show that they could prove the employer was liable to each of the class members based on common facts or theories. Katrina and Susan submitted declarations stating that they had to work overtime to complete their assigned claims, but those declarations didn't establish that their experiences were typical of the more than 450 claims examiners who were potentially part of the class. Accordingly, the trial court denied Katrina and Susan' motion for class action.
Katrina and Susan appealed the decision, arguing that the amount of overtime worked is an issue of damages, not appropriate for class certification, and that they were entitled to class certification for their claim under the UCL.
Some Employees Are Exempt from Overtime Pay
California employees are generally entitled to overtime pay if they work more than 8 hours in one workday or more than 40 hours in one workweek. However, employees that fall under the executive, administrative, or professional exemption aren't entitled to overtime compensation. In this case, Tristar's claims examiners are potentially covered by the administrative exemption. To satisfy the requirements of the administrative exemption, an employee must earn at least two times the state's minimum wage and for at least 50 percent of the time:
Perform office or nonmanual work directly related to management policies or general business operations;
Customarily and regularly exercise discretion and independent judgment; and
Perform specialized or technical work under only general supervision.
In cases of alleged failure to pay overtime compensation, the employee must first establish that she worked overtime hours without receiving compensation. If the employee meets that requirement, the employer must establish that she fell under one of the exemptions.
Misclassification Alone Is Improper for Class Treatment
An employee seeking class certification must prove that there is an identifiable and sufficiently large class, a well-defined "community of interests," and substantial benefits from proceeding as a class rather than on an individual basis.
To satisfy the "community of interests" requirement, the proponents of a class must establish that the class representatives have claims and defenses typical of the class members, that they can adequately represent the class members, and that the entire class's claims can be determined based on common issues of law or fact.
Additionally, a court won't certify a class unless it determines that the class members have sustained the same or similar damages. Thus, a party seeking class certification must establish that she can efficiently prove both a common classwide policy or practice and the same types of alleged harm.
In this case, merely establishing that Tristar may have uniformly misclassified its claims examiners wasn't sufficient. Misclassification alone doesn't establish liability for overtime violations. Rather, Katrina and Susan needed to show that in addition to the alleged misclassification, Tristar actually required the claims examiners to work overtime on a common, uniform basis.
Katrina and Susan didn't need to establish common amounts of uncompensated overtime, but they did need to establish that Tristar had a generally applicable policy or practice requiring overtime. Katrina and Susan couldn't make that requisite showing. The court of appeal therefore affirmed the trial court's order denying certification.
UCL Claim Not Appropriate for Class Treatment
An employer may be liable under the UCL if it engages in unlawful, unfair, or fraudulent business practices. The focus in a UCL claim is on the employer's conduct, not the employees' alleged harm. However, an individual may file a claim under the UCL only if she can establish actual harm and damages as the result of the employer's conduct.
In a class action, only the class representative must establish individual harm and damages sufficient to bring the UCL claim. But that doesn't eliminate the general class requirements of establishing a "community of interests."
Because Katrina and Susan couldn't establish that Tristar uniformly required its claims examiners to work overtime, the court of appeal held that class treatment was likewise inappropriate for the UCL claim. Kizer v. Tristar Risk Management (California Court of Appeal, 4th Appellate District, filed 6/26/17, Pub. Order 7/26/17).
Bottom Line
While the court denied class certification, this case serves as a good reminder to regularly review job descriptions, exemption determinations, and overtime policies. You should ensure that your policies are facially lawful and that your wage, hour, and employment practices are consistent with your written policies. Even if written policies are lawful, a court will certify a class if the uniform practice differs from the written policies.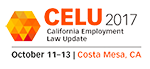 Stay up-to-date on all the latest California wage and hour laws when you join Chris Scanlanof Arnold & Porter Kaye Scholer as he presents the breakout session—"Wage and Hour Alert: New Compliance Risks Under Equal Pay Legislation, 2-Tier Minimum Wage System, Court Rulings on Breaks and On-Call Time, and More"—at the 12th annual California Employment Law Update (CELU), being held at the Westin South Coast Plaza in Costa Mesa, California, October 11-13. Click here to learn more, or to register today.
Joel Kane, a contributor to California Employment Law Letter, can be reached at Sedgwick LLP in San Francisco, joel.kane@sedgwicklaw.com.