As an HR professional, you probably encounter hundreds of résumés at any given time—and let's face it, sometimes it's a mundane chore to sift through the candidates trying to find the perfect fit. You've probably encountered résumés filled with typos and some that seem to stretch the truth a little too far, but once you've gotten past the résumé stage, it's time to start the interview process. Have you ever interviewed a candidate who stuck out so much that they're worthy of falling under the Strange But True category?
HRSBT previously reported on a man from Lithuania who was so eager to enter the American workforce that he dressed up as a food delivery man and passed out boxes of donuts—with his résumé taped inside—to companies he wished to work for. Fortunately for Lukas Yla, he was eventually hired by CityBee and is now the company's CEO. Do you want more strange-but-true résumé experiences?
Fear not, CareerBuilder has answered your calls for more! Over the summer, CareerBuilder conducted a survey that looks at how workers perceive their current roles at their companies. Unfortunately for employers, the outcome of this survey is a rude wake-up call.
According to the survey, 55% of workers feel they have just a job, not a career, and 38% of these workers are likely to change jobs in the back half of 2017. The survey also uncovered that 28% of survey respondents actually hate their job; one of the main reasons they stick around is to pay the bills. But I digress.…
The survey also asked hiring managers to share some of the unusual tactics job candidates have used to stand out among the rest. These insights include:
A candidate gave the hiring manager a baseball that read: "This is my best pitch of why you should hire me."
A candidate sent the hiring manager daisies with a note that said, "Pick me, pick me."
A candidate brought their mother to the interview as an in-person character reference.
A candidate developed a whole website dedicated to the hiring manager, asking to be hired.
A candidate hugged the hiring manager when introduced instead of shaking hands.
A candidate got up from the interview and started waiting on customers because the business got busy.
A hiring manager had a candidate volunteer to work at the business for a month before submitting an application to show that she was able to do the job.
A candidate presented a thick scrapbook of certificates, awards, and letters.
A candidate sent a Christmas card every year for 3 years.
A candidate sent a cake with their résumé printed on it.
These are some pretty ingenious ways of standing out in a crowd! We hope the candidate who helped customers during the interview process got that job. That's a great way to show initiative to a potential employer.
What's the craziest thing you've experienced during a job interview? Share it in our comments section below, or e-mail us, and it could be featured in the next HRSBT!
If you'd like credit for your story, include your Facebook or Twitter handle, and we'll mention you in the article and on social media.
Note: We reserve the right to edit submissions for clarity, anonymity, and so forth.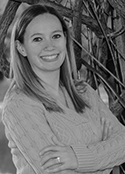 Melissa Blazejak is a Senior Web Content Editor at BLR. She has written articles for HR.BLR.com and the HR Daily Advisor websites and is responsible for the day-to-day management of HR.BLR.com and HRLaws.com. She has been at BLR since 2014. She graduated with a BA of Science, specializing in Communication, from Eastern Connecticut State University in 2008. Most recently, she graduated in 2014 with a MS of Educational Technology.