Few things have the potential to motivate and bring about positive change in the workplace as much as trust. It's the one element that has the ability to improve nearly any relationship for the better, including even the most challenging ones in professional environments. Of course, trust can also seem somewhat elusive. After all, we've all seen dramatically different leaders who successfully build trust, and it's not always easy to pinpoint how it comes about.
Over the years, however, I've noticed a few unifying traits among successful leaders who earn the trust of their employees. Following are a few principles that I've embraced in my own work and that I think can help any committed leader to cultivate trust.
Remain Visible
The days of hiding in the corner office are long gone. People want to see leaders and interact with them, whether in person or virtually. It's much easier to trust someone who's not a distant stranger. What's more, when a leader seems to be hiding, people easily imagine there is something to hide—or at the least not much to share—and neither secrecy nor lack of generosity builds much trust.
In my own work, remaining visible has always been important. When I returned to the U.S. after a number of years overseas, my new position came with a very challenging task. The U.S. organization I knew had changed considerably, and the industry was in a period of great flux.
Being unknown to so many in the U.S., I knew visibility was critical, so I began my work with a series of town hall meetings, employee roundtables, and listening sessions with team members around the country. I knew any successes would be achieved as a team and any failures would be lost as a team, so it was important to get to know my colleagues.
Start by Listening
We all recognize that strong leaders must have clear objectives, but how do we get there? Any business plan needs to start with listening.
Businesses are wildly complex, and no single person can see every angle. One person, however, can gather the critical details by hearing the perspectives of others throughout the organization. And just as important, people want to share those details and their expertise, if you let them.
Making an effort to listen can be as small as asking for colleagues' opinions before stating your own or as big as going out of your way to meet one-on-one with employees on every business trip for no other reason than to sit down with them to hear their views.
One way to build relationships through listening is not only to hear people out, but to repeat in your own words what you've just understood. It's a great way to show you're listening and a useful way to make sure you've really understood the nuances.
One of the key roles I play as a leader is demonstrating that I truly hear what our team members have to say, am interested in their perspectives, and that I will take accountability to follow up on their ideas and concerns. Following up with additional information or continued thoughts by e-mail or phone further signals my sincere interest, and in some cases, it also helps to build valuable conversations and relationships.
Ultimately, I might not come to agree with everyone, but I take the time to weigh their suggestions and opinions, to help move forward their ideas when feasible, and to give credit where it's due.
Connect on a Personal Level
It can be easy to overlook employees' lives outside of work since normal professionalism keeps many personal details out of the workplace. Trusted leaders, however, find ways to respect and acknowledge those around them on a personal level.
A recent sales call I attended with a young woman on our team comes to mind. Chatting on the way to the appointment, we discussed where we had grown up and lived, and that led to talk of family. The young woman eventually shared that her mother had recently been diagnosed with stage-four cancer—and this on the heels of her own battle with cancer. I was able to relate on a personal level and shared the story of my father's fight with cancer. It was as nice moment that built trust between us, and it ultimately changed the outcome of the sales meeting.
Once we arrived, we learned the CEO—our main contact—had been let go the day before, and the new CEO apparently didn't want to work with us. I knew that a crumbling deal would have been disappointing to my young colleague, but knowing what she was facing outside of work pushed me to go the extra mile for her. With a little diplomacy and thinking on my feet, we were soon in the room with the new CEO, and were ultimately successful in the deal.
If I hadn't had that moment of empathy with this young woman, things might have gone very differently. By getting to know her better, it led to a change in my outlook for the better. These are the types of authentic moments that are a two-way street and hard to forget for anyone involved.
This last thought brings me to two concluding points. First, building trust requires authenticity. There is no way to fake openness, sharing, or sincere listening. That's why simply following trust-building techniques generally falls flat. To lead with trust, you must be sincere and bring your own style to the process, because that's what will make it authentically you. And second, building trust requires consistency. Being intermittent or unpredictable can notably erode trust. So take these ideas to heart, make them yours, and deliver your own style of sincere leadership. Most often, trust will follow.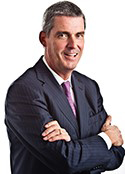 As Executive Vice President and General Manager of U.S. Sales and Account Development for American Express' Global Commercial Payments (GCP) division, Brendan Walsh is responsible for acquisition, growth and retention of small, middle market and large market companies in the U.S.

Over the past 30+ years, Walsh has served in a number of senior management positions throughout American Express. Prior to his current position, he was responsible for the GCP business in Japan, Latin America, Canada, and Europe, and also oversaw Amex's Global Currency Solutions division. In this role, Walsh developed and implemented Amex's international strategy for managing middle market payments and cash flows.

Walsh is an advisor to the UK's government energy regulator, OFGEM, the Office of Gas & Electricity Markets and is on the board of directors of Junior Achievement of New York.