Good news: Over the course of the next year, 92% of finance executives in the United States plan to spend the same or more on their labor/head count than last year, according to the 2018 Global Business & Spending Outlook, a global survey conducted by American Express and the Institutional Investor Thought Leadership Studio. Compared to the 78% of finance executives worldwide who also forecast spending the same or more on labor, this certainly notes an exciting trend for both jobseekers and companies in the United States.

However, the survey also illuminates current challenges in recruitment, retention, and workplace satisfaction. Here are three of the trending issues uncovered among the 130 U.S. executives surveyed as part of the global study.
Finding and Keeping HR Staff
Broadly speaking, company performance depends on firms' access to a few critical inputs: capital (in the form of retained earnings, equity investments, or debt); raw materials (e.g., energy and manufacturing inputs); and labor. When any of these factors are constrained, performance suffers.
Top responsibilities of HR professionals include helping to source, hire, and onboard that critical input of labor—but without a functioning HR team in the first place, this process becomes more difficult. Interestingly, nearly half of U.S. respondents (43%) cited difficulty with hiring and retaining HR staff as impeding their company's ability to meet its performance goals. In addition, out of the eight types of employees listed, respondents indicated HR staff as the most difficult group to hire and retain in the United States, as opposed to the seventh most difficult worldwide.
This effect on performance is seen during periods of low unemployment or full employment. The unemployment rate in the United States is around 3.9%, the lowest since 2000. While this is generally a great thing, it poses a two-pronged issue for companies: (1) There are fewer workers available to fill open positions, and (2) companies may face higher turnover and flight risk, as current employees can enter the crosshairs of competitors. When the HR team faces continuous turnover, daily processes can be impacted and talent pipelines can be stalled, and as a result, company performance suffers.
A company's ability to recruit and retain high-performance talent largely depends on its HR team's ability to find an increasingly scarce resource for the company—and their own team.
Retaining Employees
It's no secret that companies are looking at more than just wages when evaluating the employee experience. From physical well-being perks like on-site gyms and healthy snacks to work/life balance benefits such as American Express's new parental leave policy, companies are developing more and more creative perks to keep employees happy and retention levels high.
In order to attract and retain staff in the coming year, the survey revealed U.S. finance leaders plan to prioritize these three actions:
Improving the Physical Work Environment. Nearly three-quarters (72%) of respondents plan to improve their company's work environment through reconfiguring office spaces and providing more amenities.
Expanding Career Development Opportunities. Sixty-seven percent of respondents cited relocation or geographic relocation opportunities as a focus for career development.
Allowing Flexible Work Arrangements. With 65% of respondents saying they will make greater use of temporary or contract workers over the next year to meet staffing needs, it's no wonder that nearly the same number of respondents (66%) are considering flexible scheduling and remote work options for the company as a whole.
At the end of the day, employees should feel valued. From providing new workplace amenities such as standing desks to drafting an official teleworking policy, there are many ways to invest in employees and the overall company's competitiveness.
Mitigating Generational Conflict
Workplace conflict, whether subtle or overt, is inevitable. Perhaps unsurprisingly, the survey identified the use of technology as one source of conflict; however, it's not the technology itself that's causing the issue. Rather, it's the varying levels of flexibility, willingness, and patience required to learn, adopt, and use the technology among different age groups in workplaces.
Approximately 85% of respondents reported that technology is a persistent source of conflict or disagreement among members of various age groups in their workforce. The Millennial generation, which is considered to be more tech-savvy than any previous generation, now makes up the largest segment of the workforce.
Many have never lived in a nondigital world, and as young, inexperienced workers, they tend to expect that the rest of the world has similar experience and shares their values. Workers of older generations may lack the technological flexibility and nimbleness of their younger colleagues or feel more uncomfortable using different types of technology than younger generations.
Many companies have adopted a personal approach to understanding generational work styles through reverse mentoring programs. At best, reverse mentoring programs help build relationships and bridge perception gaps between team members of different generations. With 18% of respondents citing "willingness to collaborate and work as a team" as an additional area of concern among employees, reverse mentoring partnerships could be a potential solve to both challenges.
Looking Forward
It's true: Hiring and retaining HR staff, retaining employees, and mitigating generational conflict among employees will always be evolving challenges. But just as this piece began on a good news note, it will end on one, too.
A majority of respondents (62%) say their office culture is "more often positive than negative" when discussing and evaluating ideas and making decisions. The remainder—38%—say they have a consistently positive culture. In the face of these challenges, it's refreshing to hear the majority is open to working together to develop a compromise that leads to winning solutions.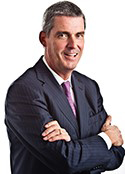 As Executive Vice President and General Manager of U.S. Sales and Account Development for American Express's (Amex) Global Commercial Services (GCS) division, Brendan Walsh is responsible for acquisition, growth, and retention of small, middle market, and large market companies in the United States.
Over the past 30+ years, Walsh has served in a number of senior management positions throughout Amex. Before his current position, he was responsible for the GCS business in Asia-Pacific, Latin America, Canada, and Europe and also oversaw Amex's Global Currency Solutions division. In this role, Walsh developed and implemented Amex's international strategy for managing middle market payments and cash flows.
Walsh is a former adviser to the United Kingdom's government energy regulator, the Office of Gas & Electricity Markets (OFGEM), and is on the board of directors of Junior Achievement of New York and BritishAmerican Business.