Digital transformation is at the top of every organization's agenda. Every department from marketing to customer success is being pushed to become data-driven. But is HR keeping up?
This summer's edition of HR Tech Meetup addressed a major challenge many HR departments are facing, but few are actually prepared for.  Speakers Gerrit Schimmelpenninck, Talent Intelligence Manager at Philips, and Marelle van Beerschoten, Founder of Digital Shapers, highlight one key element most companies are getting wrong: HR is not catching up. "While companies expect their employees to become data driven, HR is still not transforming" van Beerschoten explained. Having partnered with several companies in their journey toward digital transformation, she described how this can severely hinder a company's ability to attract and also maintain the digital talent they need. We spoke with attendees and gathered six tips your HR team needs to prepare for digital transformation.
Create end-to-end responsibility—Gerrit Schimmelpenninck, Talent Intelligence Manager at Philips
Even when HR teams are ready and energized to introduce new data-driven processes and tools, what they often face is a lack of much needed buy-in from the top level to support this transformation. As Schimmelpenninck explained:
Digital transformation is all about giving people end to end responsibility. In a lot of big organizations they entitle someone from pretty far down in the hierarchy to drive the whole digital transformation and what you often see is that those people don't really have that authority. That person then becomes nothing more than an advocate for it. Digital transformation has to come from the top, from people who actually have the end to end responsibility to successfully drive it.
Remember, data beats hierarchy—Gerrit Schimmelpenninck, Talent Intelligence Manager at Philips
While leaders may want their organizations to become data-driven, they may not necessarily understand how to read and interpret data themselves. Sometimes, if the data doesn't match what leadership is looking for, they might question it.
As Schimmelpenninck emphasized during his talk, "Data beats hierarchy". Data should be independent of your role or position in the hierarchy. Rather than picking and choosing the data that supports the direction you want to go in, use it as  the starting point for the creation of your strategy. Instead of finding ways to beat the hierarchy, include it so that it is a collaborative effort. The solution is to teach leaders how to access, interpret, and use data to inform their decision-making.
Use data to be strategic, not just reactive—Aline Swinkels, project manager at Digital Shapers
This is also extremely relevant for HR. Often, what prevents the department from becoming data-driven is inexperience with collecting and interpreting people data to inform strategies.
People analytics isn't just about reporting this year's turnover rate. If HR can learn to collect and make use of people data, it will have a powerful force behind the initiatives it presents to the executive level. As Aline Swinkels, pointed out:
You can also make use of HR analytics to predict upcoming challenges. For example, some departments use it to predict turnover and find solutions in advance, but you need to have data to predict it. You need to work together with data scientists in your HR department to make use of the opportunities HR analytics has to offer.
Don't focus on hiring digital talent—Darsh Arunasalam, events marketing manager at Impraise
When a company is going through a digital transformation, job openings for digital marketing, growth hacking, etc., begin popping up on their website. All efforts are centered on attracting digital talent by increasing starting salaries, designing hip office spaces, and introducing Google style perks. The problem is that companies often spend more time and resources recruiting external talent than helping their internal talent develop new digital skills.
Having worked with global companies across industries to create their own learning cultures, Darsh Arunasalam events marketing manager at Impraise shared her insights:
What people really want is a workplace where they can develop and grow. Simply turning HR into a hiring machine, and neglecting your existing talent will only create a disconnect in the digital transformation you want to initiate.
Studies show that creating an environment in which people are encouraged and given the means to develop makes them  more productive, and the company will experience greater retention rates. Arunasalam explained:
Your people are your company's greatest brand ambassadors. If you really invest in creating digital learning opportunities for your workforce, you'll not only experience a much greater return, as a result, you'll also find more great talent applying and eager to join your team.
Conclusion
Instead of holding HR back, digital transformation should be an opportunity to empower the department with valuable workforce insights. New HR tools provide support on the latter, but revamping the traditional HR mind-set should be the first step in your transformation journey.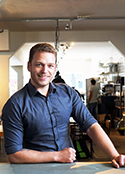 Steffen Maier is the co-founder of Impraise, the people enablement platform. Impraise's belief is simple: Grow your people, grow your business. They help unleash people's potential, doing more than just performance reviews, which means accelerating performance, fostering career development, and seizing all the moments that happen in between.