With $1.5 trillion in student debt, today's workforce of Millennials and Gen Z is no longer perfecting skills in the traditional classroom—so where do employers look to find their next accomplished talent?
A new decade and a span of five generations in the labor force require employers to broaden their talent search horizons. A number of cases have proven that online education is outperforming traditional institutions to make way for a new era of education. According to the 2020 Labor Outlook from ThinkWhy, the economy will continue to slow into 2020 and 2021, suggesting new generations will proceed to enter nontraditional educational institutions to improve job skills or prepare for career shifts.
A Change in Circumstance
With that in mind, and as Gen Z begins to flow into today's labor force, a ripple effect of change has begun that will shape the future of work. In fact, fall 2019 saw overall postsecondary enrollments decrease by 1.3%, or more than 231,000 students, according to the Fall 2019 Current Term Enrollment Estimates report by the National Student Clearinghouse® Research Center™.
For the first time in the decade, the nation's fall unduplicated enrollments fell below 18 million students, further indicating a change in the current of traditional education. No longer is higher education being praised as the fast track to a white-collar job. Instead, younger generations are either directly entering the workforce or turning to alternate sources for education to save time and money and to hone in on a specialty skill set.
Take General Assembly for example—a private, for-profit education organization that touts 20 campuses in 6 countries to teach the most in-demand coding, business, data, and design skills to date but that is also not accredited by the U.S. Department of Education as an accrediting body. Yet, it has seen great success with lofty goals, such as aiming to create standards and credentials for artificial intelligence (AI) skills and upskill and reskill 15,000 workers by 2022 in partnership with Microsoft.
The success of General Assembly is an example of an evolving working population and just the beginning of what is to come. Rather than being reactive with change thrust upon you, talent hiring professionals can start taking steps to keep pace with this workforce evolution.
Modern Solutions for a Modern Era
Today's employers need to reevaluate how to hire for a skillful and modern workforce. Naturally, with the decline in available college graduates comes the need to seek alternative sources for new hires, but no one source is a sweeping solution.
Instead, hiring managers and recruiters should consider tapping into various resources—programs such as General Assembly and colleges and universities that offer co-op options, including Northeastern University (which has a 90% postgraduate employment rate!) and Minerva, an online institution whose seminars are taught live via video.
When employers take a step back to recognize that educational programming is evolving to align with the entrepreneurial spirit required to compete in today's business ecosystem, they also take a step forward toward recruiting from a unique pool of applicants who have selected a nontraditional path that ultimately leads to putting their education into action as opposed to simply obtaining a degree.
With the cost of traditional higher education continuing to rise, more students will be attracted to online resources, particularly with wage growth slowing during the 5-year forecast period. More than half of the world's population and nearly three-quarters of Gen Zs use the Internet and multiple social media platforms to engage in their social and professional interests.
With the shift from traditional educational institutions to online resources, it's important for businesses to build and maintain a strong online presence for their company to gain and attract talent. It's a great time for employers to embrace a transformational approach in this new era of work!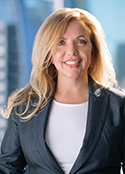 Claudine Zachara serves as President and Chief Operating Officer, with responsibility for management of ThinkWhy. As the Cofounder, her focus is on driving the vision, values, and culture for the organization while setting strategic direction, creating sound operational procedures, and delivering profitability.

Zachara brings 20 years of experience in commercial operations, which includes serving as CMO and Senior Vice President of Revenue Operations for three prior software-as-a-service organizations. Her experience includes leadership roles in private and public companies, board positions for nonprofits and municipalities, building high-performance teams, and driving sustainable growth.

ThinkWhy helps companies navigate a new era of work by creating modern, human-centered solutions that drive alignment between labor economics and business strategy. The company's first product, LaborIQ™, helps employers understand labor supply and demand, benchmark roles, compensation, and talent requirements through one intuitive platform, creating a strategic business advantage for clients.

LaborIQ is the first platform to bridge the gap between labor market analysis and compensation planning, helping business leaders understand the specific impact to their organizations. Learn more at www.ThinkWhy.com, or follow us on Twitter and Instagram at @ThinkWhy_, on Facebook at @ThinkWhyLLC, and on LinkedIn at @ThinkWhy-LLC.