Chances are you've never thought that you were invisible. But there's a good chance that the impact of some of your actions are. A study shared at the annual International Sedentary Behavior Network on Physical Activity (ISBNPA) conference revealed how infrequently people mention an all too familiar act: sitting.
If you were shown a photo of an office worker and asked to describe what he or she is doing, what would you notice? You might note that they're typing on the computer, talking on the phone or writing notes in a journal, but you probably wouldn't mention that they're sitting down.
This social disregard toward sitting is problematic. A staggering amount of corporate America is spending most of the day –approximately 12.3 hours—sitting in a chair. While business leaders and employees alike see sitting as an ordinary aspect of the work day, there's growing concern about the daily cycle to which we're so accustomed. It's bad for individuals, and it's bad for business.
The Impact on Employees
Employers are spending more than ever on wellness programs and employee satisfaction, but they are turning a blind eye to sedentary behavior in the workplace. A wave of scientific studies shows that prolonged sitting increases the risk of cancer, cardiovascular disease, diabetes and death. People who sit for more than 11 hours a day have a 40% increased risk of death in the next 3 years compared with people who sit for less than 4 hours a day.
But physical health isn't the only thing in question. Sitting for prolonged periods of time affects concentration, productivity and state of mind. Sitting for 6 or more hours increases the risk for mental health issues, such as anxiety and depression. Recent data also suggests that while 68% of workers must sit all day for their job, 61% dislike or even hate sitting.
The Impact on Your Bottom Line
Most employers have learned that employee health and wellness also impacts the health of your business. Beyond the negative impact of sitting on both the mind and body, inactive employees are more expensive than active ones. According to one study, an inactive employee is 15% more expensive than an active one, equating to hundreds of dollars per employee, per year.
Sitting for long periods of time ranks highest in terms of work habits that lead to aches and pains. Back pain is extremely costly to employers with estimates ranging from $7.4 billion to $213 billion spent in annual treatment and employee absenteeism. Restlessness from sitting too much also disrupts productivity. The resulting presenteeism can be even more costly to an organization than medical expenses.
How to Add Movement to Your Workplace
While pervasive and problematic, the good news for business leaders is that it's not too late to fight back. Start by learning the facts by reviewing the educational resources such as JustStand.org. From there, focus on what you can control.
Instead of targeting employee behaviors outside of the office, take an internal approach and change something you have direct control over—a sedentary office environment. According to a recent survey, once provided with access to sit-stand workstations, nearly one-third of employees spent more than half of their workday standing, stretching or walking, and 80% reduced their sitting by one hour or more.
Finally, break the habit. Start by recognizing sedentary behavior. Make note of all the forced sitting such as workstations, meeting rooms and break rooms, and change the environment by introducing movement and choice. Promote movement in the office, whether through sit-stand desks, encouraging short breaks and walks, or starting every meeting standing. In time, standing, not sitting, will become the company norm.
Break the Daily Cycle to Reach Your Business Goals
Tackling our natural inclination to sit throughout the day takes time and focused effort, but through small actions, you can take steps toward improving your employees' well-being and ultimately, your bottom line. Happy and active employees drive successful business results that will help you meet your goals. In the end, what's good for your employees is good for your bottom line.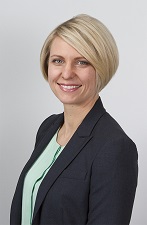 Betsey Banker is Wellness Market Manager, CWWS, CWWPM at Ergotron. With over a decade of experience working for a leading manufacturer of ergonomic and sit-stand display mount solutions, Betsey has experienced firsthand the transformative impact that movement can have on worker wellbeing. At Ergotron, Betsey is a trainer, catalyst and coach, helping others to understand and embrace the importance of movement within their own lives and those they influence. Her responsibilities include raising awareness of the harmful impacts of a sedentary workstyle, creating tools to aid organizations in the adoption and implementation of movement–friendly workstations and helping them achieve measurable results. Prior to joining Ergotron, Betsey was the Marketing Communications Manager at OmniMount, where she was responsible for all external and internal marketing collateral for the brand.