Yes, HRSBT is aware that the holidays are over with, but who doesn't love a good office party story, regardless of the time of year? Recently, one woman sent the Internet into a tizzy over an ugly holiday sweater—and it's not in the way you think!

The latest trend in holiday fashion, ugly sweaters, has caught on over the years and now has become a staple for many office holiday parties. If you are unsure of what an ugly holiday sweater is, you definitely need to check out Maya Moore's failed attempt, because this sweater takes the ugly cake. Unfortunately, though, this wasn't the ugliest sweater at her office party this past December.
Moore spent 4 hours crafting the Christmas tree-inspired sweater in the hopes of winning her office holiday party. Unfortunately, that wasn't the case, and Moore ended up taking second place. She took to Twitter to air her grievances, and the Internet quickly followed suit. Her post received more than 14,000 retweets, 30,000 likes, and numerous responses of outrage over her loss.
This was Moore's first year working at her company, and she decided to go all out for her first office contest. Moore told Mashasble.com, "Most of my coworkers didn't care too much about the contest and participated to be team players, so I figured I'd win either first, second or third, but I was shooting for first clearly." Even though she lost, she's not worried, saying, "I'm not mad at all that I didn't win first … I had fun making it and getting a rise out of my coworkers the entire day."
In relation to her post going viral, Moore says, "I don't know how or why this went viral, as you can see I don't have many followers … I posted it originally for my sisters and friends to get a kick out of." Clearly, more than just her friends and family enjoyed her post. Moore quickly found her sweater had become an Internet sensation and the inspiration for a few memes. If you're planning ahead for next year's holiday party, then Moore's sweater is definitely something you can strive for. It really does make you wonder what the winning sweater looked like …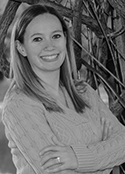 Melissa Blazejak is a Senior Web Content Editor at BLR. She has written articles for HR.BLR.com and the HR Daily Advisor websites and is responsible for the day-to-day management of HR.BLR.com and HRLaws.com. She has been at BLR since 2014. She graduated with a BA of Science, specializing in Communication, from Eastern Connecticut State University in 2008. Most recently, she graduated in 2014 with a MS of Educational Technology.