Elaine Chao, nominee for Secretary of Transportation (DOT), promised lawmakers that, if confirmed, she would lead the agency in much the same way she led the U.S. Department of Labor (DOL) under George W. Bush: prioritizing compliance over enforcement.

The Senators generally praised Chao's work at the DOL during her January 11 confirmation hearing. Sen. Bill Nelson (D-FL) said she served with "grace and excellence" and Sen. Jim Inhofe (R-OK) commended her for addressing problems on her first day and maintaining that momentum throughout her tenure. "I'd hope you do the same at [the] DOT," he said.
Sen. Roy Blunt (R-MO) said that Chao did a "tremendous" job at the DOL and that he hoped she would run the DOT in the same way: with a focus on compliance. Blunt said he liked her "theory of trying to get people into compliance rather than [using] the heavy hand of enforcement."
Chao said she plans to do so. Regulations can be confusing, she said, and the government "has a responsibility to engage in outreach, to help the regulated community understand what it required of them."
Such outreach benefits those being protected and builds a culture of safety, Chao continued. "By working together, by making it very clear what the obligation of the employer is and how best to understand the plethora of federal, … state and local regulations, to make it transparent and easily understandable, that's the best way to protect workers and that was the philosophy in compliance that we followed."
Chao also echoed a focus regularly touted by President Donald Trump: job creation. "I am very much in support of the government … creating the environment though which job creation, economic growth can occur," she said.
Her time as Labor Secretary, however, isn't without its critics. Sen. Gary Peters (D-MI) asked Chao to promise that she wouldn't suspend prevailing wage laws for federal contractors as she did in 2005 following Hurricane Katrina. "This action was very concerning to me … because even a temporary suspension of Davis-Bacon will drastically reduce wages to American workers who are tasked to rebuild their community."
"Can you commit now to us to the application of Davis-Bacon for all Department of Transportation contracts issued under your leadership?" Peters asked. Chao replied that the suspension after Katrina was an extraordinary measure and that "Davis-Bacon is the law and it will be the law unless the Congress changes it."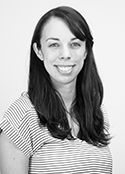 Kate McGovern Tornone is an editor at BLR. She has almost 10 years' experience covering a variety of employment law topics and currently writes for HR Daily Advisor and HR.BLR.com. Before coming to BLR, she served as editor of Thompson Information Services' ADA and FLSA publications, co-authored the Guide to the ADA Amendments Act, and published several special reports. She graduated from The Catholic University of America in Washington, D.C., with a B.A. in media studies.