While promising that the U.S. Equal Employment Opportunity Commission (EEOC) will retain its core values, President Trump's pick for acting chair told employers Thursday that the commission will, at the president's direction, focus on job growth.

"It is a new day and to the extent [we can] help foster employment opportunity and economic growth … that is something that we will be focused on," Victoria A. Lipnic said during a panel discussion at Seyfarth Shaw LLP February 9.
What Stays the Same
Lipnic was careful to note that, even though there will be changes at the commission, the EEOC remains committed to its core values and its mission. "That's not going to change," she said; the commission is an enforcement agency and it will continue to enforce federal nondiscrimination laws.
The commission also will continue to work on reducing its charge backlog, Lipnic said. EEOC has more charges pending at the end of each year than it receives but it's making some headway: despite seeing an increase in charges in 2016, it reduced its backlog by 3.8%. Lipnic acknowledged that Congress has expressed displeasure with the situation—through hearings and legislation—and said she would continue efforts to address the pending charges.
Lipnic also noted that at least some initiatives adopted under President Obama may remain in place. In a harassment guidance, proposed just days before Trump took office, the commission included a recommendation that employers provide civility training. And Lipnic says that's just the first step: the commission will soon consider whether to recommend "bystander intervention training."
New EEO-1 compensation reporting requirements also may be here to stay. Lipnic said she voted against the new requirement and would like to revisit some of the specifics as well as its costs and benefits. But, "keep in mind," she said, "the commission operates by a vote."
The EEOC is led by five commissioners, and Lipnic is the lone Republican and the only commissioner who voted against the new requirement. There is one vacancy to which Trump can now appoint a Republican, but Democrats will retain their majority for some time, at least until former Chair Jenny Yang's term expires in July. The first round of reporting begins in March 2018.
What Will Change
Trump has made it very clear that he is interested in job growth, Lipnic said, and under her leadership, the commission will adopt that focus. The EEOC, in its policy making, must recognize that certain business practices are necessary for companies to be competitive today, she said.
Trump believes that there are opportunities to refocus regulations in a way that will foster job growth and that is something of which the commission should be mindful, Lipnic said. "We are not exempt from that at the EEOC."
As for enforcement priorities, EEOC's current strategic enforcement plan (SEP) generally remains a good indicator of the commission's focus, Lipnic said. However, two priorities from that plan could soon receive extra attention. First is the evolution of employment relationships. Lipnic said she plans to give specific attention to that issue, which looks at employer responsibilities in joint employment, the use of staffing agencies, and the gig economy.
Equal pay issues also are of particular interest, Lipnic said. The commission has filed relatively few equal pay cases in recent years, "so that's something I would consider a priority," she said.
And although it is not mentioned in the SEP, the commission likely will increase its focus on age discrimination, Lipnic said. Because 2017 is the Age Discrimination in Employment Act's 50th anniversary, that's something that will have a high profile this year, she said.
Additionally, one recent EEOC focus may be reined in a bit. Efforts to combat systemic discrimination have occupied a lot of the commission's work, Lipnic said, and while she is committed to that issue, she also believes that the EEOC needs to ensure it is taking on enough individual cases. "I am not of the view that we should be all systemic, all the time," she said, adding that the commission needs to step back and evaluate the amount of resources it commits to systemic cases.
As a middle ground between these nationwide and individual suits, Lipnic proposed regional litigation. If the purpose of pursuing systemic discrimination cases is to have a broad impact, the commission could opt to sue an employer over a policy or practice only at a regional level. That could affect a company's policy just as effectively as a nationwide suit could, she said.
Finally, Lipnic addressed her hope to make some administrative changes. The EEOC's presuit conciliation program has been increasingly challenged by employers and Lipnic said she will work to ensure that the program is solid and that EEOC employees are properly trained in its use.
She also noted that she would like the commissioners to see and vote on more complaints before they are filed in federal court. Most of that decision making authority is delegated to the commission's general counsel. The commissioners shouldn't have to vote on every piece of litigation, Lipnic said, but it needs to be more than they have in the last 7 years.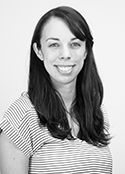 Kate McGovern Tornone is an editor at BLR. She has almost 10 years' experience covering a variety of employment law topics and currently writes for HR Daily Advisor and HR.BLR.com. Before coming to BLR, she served as editor of Thompson Information Services' ADA and FLSA publications, co-authored the Guide to the ADA Amendments Act, and published several special reports. She graduated from The Catholic University of America in Washington, D.C., with a B.A. in media studies.