by Miranda Nicholson, director of HR, Formstack
Picture this: you're looking for a new job, hear about a new opening at a fantastic company, and submit your application. You have a great interview, receive an offer, and accept it in a heartbeat.

This is an ideal scenario for a perfectly qualified candidate, but every HR professional knows there's a lot more that goes into recruiting behind the scenes. Where do you find the perfect candidate for a role? What criteria does each individual need to meet before they receive the opportunity to interview? What interview questions will show you how they might perform as an employee? And, if they're hired, how do you know if they'll fit well with other employees in your organization?
With all these factors (and more) in play, it's no wonder that hiring is one of the top HR challenges faced by Human Resources professionals across the globe.
To better understand how organizations overcome the hiring challenge, we asked HR professionals with different backgrounds for some of their best tips on hiring the right employee for a role. They gave us some outstanding insights and advice on different pieces of the recruitment puzzle, which we narrowed down into three main takeaways:
1. Define What 'Fit' Means to Your Organization
Hiring for fit is an obvious part of the recruiting process, but few organizations actually take the time to identify what "fit" means for them. To get started, Mike Bensi, advisor at FirstPerson, suggests considering these key questions:
What are the core values that make up your company's culture?
What kind of behaviors do employees need to be successful in your organization?
What kind of behaviors might signify a red flag?
Don't hesitate to brainstorm with other employees on your team or in your organization to get a strong sense of culture, success, and overall fit. Answering questions like these will help you build a unique value proposition for your company's recruiting experience and can become a solid framework for your interview process.
2. Create an Experience that Defines Your Recruiting Brand
As a representative of your organization, Michelle Rodriguez, HR manager for the Indianapolis Colts, says you should strive to provide the best possible experience for all job candidates in your talent pool (not just for the candidates who receive an offer).
Communication and trust both play a vital role throughout the recruiting process, so it's important to establish trust with candidates early on. If you tell a candidate you'll follow up with them on Friday, you need to get back to them on Friday, even if you still haven't made a decision.
Trisha Borme, talent acquisition manager at Interactive Intelligence, has found recruiting success by building a team of passionate talent professionals who designed the right process for her organization. Two major components of their process were assessing candidates' soft skills and conducting a cultural assessment.
Borme notes that the candidate experience is very important and can make a major impact on your talent brand. Stringing candidates along without consistent communication is frustrating and unfair to them. Your recruiting brand will suffer if they share their negative impressions of your company with others. On the other hand, candidates who receive a great experience with timely and intentional communication can become advocates for your organization even if they aren't hired.
3. Build Relationships to Expand Your Talent Pool
Even if your company has low employee turnover, it's important to maintain a deep talent pool to draw from so you're prepared whenever the need arises. Karin Gorman, president of the consulting division at Staff America Inc., encourages companies that struggle to find high quality candidates to reconsider their candidate sources.
Building relationships with candidate sourcing organizations will help you fill your hiring funnel with candidates that have the skills and experience necessary for the job. For example, if you're looking for a skilled graphic designer, connect with a local art college or institute.
Once you establish a connection with those organizations, continue to foster the relationship through consistent communication, even when you don't have job openings. This takes time but is absolutely worthwhile in the long run. If all else fails, consider partnering with a staffing agency that can help you fill those skilled roles.
If you continue to struggle with recruiting, take the time to identify your own personal hiring roadblocks and implement some of the above HR tips. While there's no simple solution, putting more effort into these parts of your recruiting process is a great way to get started.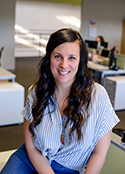 Miranda Nicholson is the director of HR at Formstack, overseeing the acquisition, onboarding, and retention of current and to-be Formstackers.