by Christie Garton, Founder of the 1,000 Dreams Fund
Millennials are very much looking to their workplace superiors for mentorship, but studies show they're coming up short—and that's detrimental on personal, company, and industry-wide levels. In order to become the best leaders of tomorrow, young professionals need guidance from the best leaders of today.

According to the State of the Girl survey—of over 1,000 young women ages 18 to 35 conducted in partnership with Recruiter.com—70% of respondents say they do not have a workplace mentor. And of that remaining faction, many people have mentors who aren't really providing useful enough support and guidance. Sounds troubling? Well, it doesn't have to be that way—and it shouldn't.
Strengthening company mentorship is a multifaceted effort, and it goes well beyond simply establishing an internal program. Millennials are self-driven: Although they may make use of an existing network, they're also likely to embark on a solo search for the perfect mentor. Help them maximize their options and results with these tips.
Help Employees Utilize Their Alumni Networks
It's shocking how few people take advantage of their universities' alumni organizations. Bonding over a commonality is the fastest way to bridge a connection, especially with people who receive many inquiry e-mails that probably all sound pretty similar.
Improve the likelihood of forging that connection by creating an accessible spreadsheet of employees' alma maters. To avoid a sense of invasiveness, ask employees to voluntarily add their universities. The camaraderie between two Michigan alums—one executive, one administrative assistant—could spark a rich mentor/mentee relationship.
Encourage Established Employees to Enroll in Large-Scale Mentorship Programs
There are excellent existing networks for all different fields, and your company leaders can be real assets for people all around the world. Beyond the general goodness of teaching others, this is an excellent recruiting tool. Current high school and college students, already promising in their fields of study, will be looking to your company for guidance and support.
Consider Million Women Mentors, which connects science, technology, engineering, and math (STEM) mentors with young women, boosting their confidence and interest in STEM careers. These are budding software designers, chemists, financial analysts—the whole world will benefit from their skills, and your employees can help fine-tune them.
Don't Be Discouraged When Millennials Broaden Their Search
Millennials know that their ideal mentor may not work in their building, or even within their company at all. A mentor doesn't have to be someone an employee sees regularly; instead, the relationship may survive via phone calls and e-mails. While it's important to create internal bonds, employers shouldn't think of external mentors as a threat. Instead, encourage employees to search social media, company mastheads, and LinkedIn for people who inspire them.
At my nonprofit, 1,000 Dreams Fund, we provide grants to girls who show exceptional promise in their fields. We're planning to launch a mentorship program for recipients, where each one will get a phone mentor session with someone who already excels in their particular industry. Mentorship isn't necessarily a monthly coffee date; a wealth of knowledge can just come from one worthwhile conversation.
There are so many factors that go into meaningful mentorship, and it's not always easy to find the right fit. Your employees may chat with a number of interesting, successful people before they really click with somebody. Here's some advice to give to employees who are seeking mentorships: Don't force it, but be persistent. With enough genuine effort, you can create, build, and maintain a mentor/mentee relationship that propels you forward as you advance your career.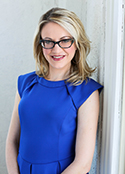 Christie Garton is an award-winning social entrepreneur, author, and creator of the 1,000 Dreams Fund, a social enterprise which empowers young women in the U.S. through scholarships and life-changing advice. Garton is the author of the best-selling college guidebook for women, U Chic: College Girls' Real Advice for Your First Year (& Beyond!) (4th Edition, Sourcebooks 2015) and co-author of Marketing to Millennials: Reach the Largest and Most Influential Generation of Consumers Ever (AMACOM 2013). Garton has contributed to USA Today, The Wall Street Journal, The Huffington Post, and U.S. News World Report. She holds a J.D. from the University of Pennsylvania.