by Galina Datskovsky, CEO of Vaporstream
Identifying and recruiting new talent is a core responsibility of HR teams and hiring managers that requires extensive communication both internally and externally. Keeping the breadth of communication and the confidential details discussed private during recruiting creates a challenge for HR teams—as well as potential new hires.
During recruitment, secure communications protect both the recruiter and the potential new hire. This especially rings true when HR teams are recruiting individuals that are employed at competitor companies. Recruiters need to keep the conversation with these candidates confidential, either because the potential new hire simply does not want their current employer to know about it, or there is a noncompete in place.
The Downside of Common Communication Channels
The traditional means of communication for recruiters often fall short of what they need to in order to successfully engage candidates and keep conversations secure. Though e-mail is often viewed as the simplest and most direct way of contacting a potential new hire, it comes with a lot of potential issues.
E-mail can easily be forwarded and shared with anyone, accidentally or intentionally. As the workforce becomes increasing mobile, bring your own device (BYOD) practices see many employees comingle their work and personal information on a single device. This practice can potentially create privacy issues if a candidate is indeed e-mailing with a recruiter.
As an alternative, hiring managers and recruiters have turned to LinkedIn. However, using this communication tool does not circumvent the privacy issues of e-mail. A candidate may link their business e-mail to LinkedIn, which means they receive notifications, including recruiter messages, to their work account.
As this information is accessible by the candidate's company, their employer could potentially find out about the interaction—leaving them less likely to engage for fear of repercussions.
Another important issue while recruiting is speed and responsiveness. According to the 2015 Mobile Marketing Watch, text messages have a 98% open rate and a 45% response rate, while e-mail has only a 20% open rate and a 6% response rate. Ensuring that response times are as high as possible are critical for the recruiter competing for high profile candidates.
Recognizing the pitfalls of relying on e-mail and social media for recruiting, some HR teams and hiring managers have already turned to messaging services to aid them in these 'off the grid' conversations. However, the free, consumer-focused apps available today do not have the security and sender controls in place to safe guard conversations. To successfully engage candidates, and avoid the security pitfalls of traditional communications, recruiters need to utilize an enterprise messaging app that meets consumer demand while providing the security required.
The Case for Secure, Ephemeral Mobile Messaging
Secure, ephemeral messaging is all about sender control. The ephemerality, or set expiration date of a message, ensures content is not available after a set timeframe. So, if recruiting a specific candidate is not successful, the recruiter does not have to worry about the conversation being accessed after it expires.
Other sender controls ensure that messages cannot be forwarded, copied, pasted, or otherwise shared with an outside party. In the case a user accidentally sends a message to the wrong party, enterprise messaging apps like this offer a "shred on demand" feature that enables the sender to delete the message from the recipient's device at any time.
While the ephemerality of the message ensures that it is gone from all devices, enterprise messaging solutions also have capabilities that support governance and compliance. This enables HR managers or recruiters to control what messages are saved to a secure repository for recordkeeping purposes.
By keeping track of the key parts of a hiring negotiation, such as salary, benefits, and start time, the HR manager can review everything to make sure all the terms are in place before sending the final contract to the candidate. The messages can then be deleted from the repository in accordance with organizational policy.
Some best practices used by organizations include:
Ensure that a copy of all text messages are placed into the repository of record when required by compliance or business use.
Dispose of the messages based on the retention schedule for similar items.
The Core of the Organization
HR's use of secure mobile messaging can also go beyond recruitment and be leveraged for other confidential conversations, from raises and promotions to disciplinary actions and whistleblowing.
Ephemeral enterprise messaging apps eliminate the concern of information being misused, while ensuring employee records can be maintained via the secure repository. The security of the conversation also reassures employees and potential new hires that their communication with HR is confidential and the enterprise messaging capabilities become core to the operations of the organization.
As the workforce increasingly becomes mobile and candidates and employees develop a preference of having professional conversations via mobile messaging, recruiters and HR teams need to shift their approach. Ephemeral, secure, enterprise messaging apps enable HR departments to keep communications private, creating a win-win situation for their company and employees.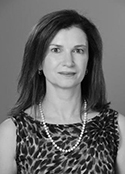 Dr. Galina Datskovsky is currently the CEO of Vaporstream®. She has also served on the board of multiple startups, assisting with strategy. Formerly Senior Vice President of Information Governance at Autonomy an HP Company. She served as Chair, President, President Elect and Director of ARMA International (2007-2013) as well as fellow in 2014. She also served as Senior Vice President of Architecture at CA Technologies, responsible for corporate-wide architecture and design initiatives, General Manager of the Information Governance Business Unit and a Distinguished Engineer. She joined CA in 2006 with the acquisition of MDY Group International, where she served as founder and CEO.
Galina is a Certified Records Manager (CRM) and is recognized around the world as an expert in information governance and associated technologies. She is the recipient of the prestigious Leahy award and a Fellow of ARMA International. She has been widely published in academic journals and speaks frequently for industry organizations such as AIIM, ARMA International, ILTA, IQPC and Cohasset Associates/MER. She received the NJBIZ: Best 50 Women in Business Award in April 2010. Prior to founding MDY, Galina consulted for IBM and Bell Labs and taught at the Fordham University Graduate School of Business and the Graduate School of Arts and Sciences at Columbia University. She received her CRM certification in 2004 and earned doctoral and master's and bachelor's degrees in Computer Science from Columbia University.