If you envision the world 135 years from now, you might be picturing flying cars, artificial intelligence (AI), virtual realities, maybe even a new human colony forming on Mars. Your imagination can run wild attempting to predict what the workforce of the future might look like. By this time, we all might be wearing productivity measurement technology, working alongside AI colleagues, conferencing with holograms, and best of all, women will have finally achieved equal pay! You read that right. Data suggests women won't reach pay parity in the U.S. until 2152.
That's a depressing realization to say the least, but it's not set in stone. Human Resources (HR) professionals are paying attention, and they're making an effort to close the gap much sooner. In recent years, we've seen employers like Salesforce make huge investments to address and eliminate pay discrepancies between men and women. The cloud-based software company has committed to fixing its gender and racial pay gap by performing annual audits and following through with appropriate compensation and bonus adjustments.
We'd all like to see more organizations take this proactive approach to providing fair pay policies in this fashion, but it's a big undertaking.  HR professionals who want to make a difference and help guide their organizations toward gender parity have to start somewhere. First, we have to ask: What is the current state of women in the workforce, and what can their experiences teach us about our subtle biases?
Recently, iCIMS surveyed 1,000 office professionals, including a mix of women and men at different experience levels, to reveal some of the gender equality issues still plaguing many companies. iCIMS found that in today's workplaces, there is still a lot of work to be done in key areas, including the pay gap, parental leave, hiring women in science, technology, engineering and math (STEM) careers, and promoting women to C-level positions.
Parental Leave and Returning to Work
By now, we've all heard that women earn about 80 cents for every dollar men are paid. But it's also important to acknowledge that other factors, such as race and parenthood, drive that divide even wider. For example, working mothers typically are paid just 69 cents for every dollar that working fathers earn. The fact is, the majority of women will have a child by the time they're in their mid-40s, when they should also be reaching their peak for professional earning.
Unfortunately, parenthood can be a big factor in career stagnation. Forty-five percent of office professionals believe parental leave would decrease their opportunities for promotion. Because of this, parents of both genders are sadly missing out on valuable family bonding time to protect their job paths. Among working men, a whopping 91% believe they are less likely than women to take advantage of parental leave, even if they have the option. This leaves much of the career-stalling burden on mothers who are often forced to take longer leaves of absence to pick up the parenting slack.
Not all is lost if you have to take a longer leave than expected. The rise of the gig economy and contingent hiring have created more part-time, flexible work options, if full-time isn't feasible just yet.
We're also seeing companies starting to offer "returnship" programs that help transition workers back into their careers with specialized training and mentorship. iCIMS found that 82% of office professionals, and 95% of Millennials, are interested in taking advantage of this type of program in the future.
Career Advancement
Even without factoring in parental leave policies, the U.S. labor market is still heavily characterized by occupational gender segregation (when certain roles or industries remain highly dominated by either men or women). We see this especially in senior leadership or C-level positions.
While 94% of workers have at least one female in their leadership team, on average, just 32% of high-level or C-level leaders at their companies are women. Worse, among female executives who were able to crack the proverbial glass ceiling, 62% say they have been passed up for a promotion in favor of a male.
Women at the employee-level aren't letting these statistics get them down, though. They are equally as aspirational as their male counterparts, with 73% hoping to become an executive at some point in their careers.
Gender Equality in the STEM Industry
In many ways, STEM fields represent the final frontier for gender pay equity. The industry has developed a reputation for being uninviting to women, even starting with job descriptions which tend to use language skewed toward male stereotypes, like when seeking out coding "ninjas."
Women who work in STEM (46%) are also significantly more likely than men (27%) to feel they are underpaid once they do land the job. STEM professionals say it will take approximately 13 years before their industry has as many women as men, while 33% believe this will never happen. That's a heartbreaking notion, but one I'm hopeful is not the reality.
Today, young women and girls are growing up in the age of female Ghostbusters and Wonder Woman. They're seeing female leaders like Facebook COO Sheryl Sandberg, film director Ava DuVernay, and Senator Kamala Harris enter male-dominated fields and redefine the image of success. I can't say whether it will take another hundred years to close the gender pay gap. But if we're all paying attention, those of us in the HR and tech industries have the power to greatly improve our chances.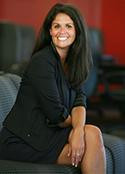 As Chief Marketing Officer at iCIMS, Susan Vitale is ultimately responsible for shaping and sharing the iCIMS story across various audiences, including prospective and existing customers, the media, industry thought leaders, employees and candidates. She is also responsible for iCIMS' brand strategy across public relations, events, advertising, product marketing and content marketing.Vitale takes pride in converging the worlds of recruitment and marketing, and incorporating this passion into the company's own recruitment marketing strategy. Given iCIMS' role in talent acquisition, she has a deep understanding of how to effectively manage recruitment advertising investments, social recruiting strategies, candidate relationship management (CRM) and recruitment events. As a member of several online mentoring communities, Vitale provides career advice and insight on finding the right career fit for young professionals. She also serves on the board of advisors at Switch and is a member of the board at NY/NJ Baykeeper Association.