Thanks to the California Legislature's largesse toward public-sector labor unions, California public employers must now allow unions access to new employee orientations and must give unions contact information regarding new employees.
The Issues Behind the Bill
Drawn from a 2017-18 budget trailer bill, Assembly Bill (AB) 119 shows that unions are really thinking ahead to address potential impacts of challenges to the legality of "agency shop." "Agency shop" refers to organizational security arrangements, currently allowed under all California statutes governing public-sector labor relations, in which exclusively represented employees—including those opposed to their representative union's political positions—are required to either become union members or pay a "service fee." The constitutionality of agency shop was affirmed in Abood v. Detroit Board of Education (1977) 431 U.S. 209.
In the 2016-17 term of the U.S. Supreme Court, the constitutionality of agency shop and the continued viability of Abood were imperiled. Commentators widely believed that the Supreme Court would use a case then before it (Friedrichs v. California Teachers Association) to overrule Abood by a 5-4 margin. However, after Justice Antonin Scalia unexpectedly passed away, the Supreme Court tied 4-4 in Friedrichs, resulting in a nonprecedential affirmance of the underlying 9th Circuit (which covers Alaska, Arizona, California, Hawaii, Idaho, Montana, Nevada, Oregon, and Washington) decision that upheld Abood.
It's likely that a new case virtually identical to Friedrichs will come before the Court next term (Janus v. Am. Fed'n of State, Cty. & Mun. Employees, Council 31 (7th Cir., 2017) 851 F.3d 746. If the Court grants a review, a 5-4 vote reversing Abood is likely, given President Donald Trump's recent appointment of Neil Gorsuch.
This epochal battle between public-sector unions and conservative political forces forms the backdrop for AB 119. When a union can recruit more new members, it is less reliant on "agency fees" from objecting nonmembers. Make no mistake: The core objective of AB 119 is to give unions a mechanism for recruiting new members, in the face of the potential loss of agency fees from nonmembers. It's part of a smart new business model for public-sector unions.
Basic Requirements of AB 119
Orientation sessions are an important vehicle for introducing and acclimating new employees to an employer's workplace culture. This important "onboarding process"—whether in-person, online, or through other means or media—is the mechanism by which new employees are advised of their employment status, rights, benefits, duties and responsibilities, and other employment-related matters. Previously, public employers had free rein to determine the content of orientations.
AB 119, however, injects unions into the orientation process by mandating that they be provided at least 10 days' notice of and "access" to new employee orientations. The structure, time, or manner of such "access" isn't specified.
Instead, employers are required to negotiate with the unions over those details. In an even more draconian twist, if the union and management fail to agree on the details within 45 days of first meeting (or within 60 days of the original request, if sooner), the dispute is submitted to binding "interest" arbitration for a decision by a third party.
Public employers now must also provide unions with names, home addresses, personal e-mail addresses, and cell phone numbers for new employees within 30 days of hire and for all employees at least every 120 days. AB 119 also amends the information that may be withheld from Public Record Act requests to add personal e-mail addresses in most circumstances.
In referring to a California Supreme Court case addressing the duty of local agency employers to provide union access to employee contact information (County of Los Angeles v. Los Angeles County Employee Relations Com), AB 119 glancingly acknowledges the privacy rights of employees who want their addresses and phone numbers to be maintained confidentially.
Unanswered Questions
AB 119 leaves a number of questions unanswered. Can the employer advise employees in advance about the union's right of access and state its views about unionization before orientation occurs? Can the employer advise employees that presence during the union orientation isn't required? Can it be present during the union's presentation? Is it required to pay new employees for attending the union orientation? Can it require advance notice of any material the union intends to produce?
The answer to those questions is probably "yes"—but if an arbitrator concludes otherwise, the employer would be required to initiate an expensive lawsuit to challenge that decision.
Bottom Line
Many public-sector employers already allow some form of union access to employee orientations. Such employers should review their policy or agreement for compliance with AB 119's notice requirements.
Employers that don't already have a negotiated policy on union access to employee orientation must be prepared to negotiate over the "structure, time, and manner" of that access, including such issues as the length of time the union will be provided, whether new employees will be required to attend the union's presentation, whether the employer will be required to reschedule orientations or provide alternative access if the union is unable to attend, and how to manage orientations for new hires represented by multiple unions.
One critical issue to consider is the difference between "onboarding" and department orientations and which orientations the union must be allowed access to. If an employer already holds regular quarterly, monthly, or biweekly orientations, the union should be provided access to that regular orientation schedule. Providing 10 days' notice of individual orientations would likely cause delays and be administratively difficult.
We also suggest that employers consider setting union presentations at the end of orientations. The employer should bargain to allocate a reasonable amount of time for such presentations. What is considered reasonable depends on the overall length of the orientation and the length of time afforded to each presentation.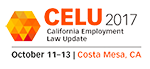 Stay up-to-date on all the latest California legal trends when you join Cathleen Yonaharaof Freeland Cooper & Foreman LLP as she presents the breakout session—"Labor and Employment 360: Inside Look at How the Latest California and Federal HR Laws, Court Rulings and Policy Updates Will Impact Your Workplace"—at the 12th annual California Employment Law Update (CELU), being held at the Westin South Coast Plaza in Costa Mesa, California, October 11-13. Click here to learn more, or to register today.
Jeffrey Sloan and Tori Anthony, contributors to the California Employment Law Letter, can be reached at Renne Sloan Holtzman Sakai LLP, jsloan@publiclawgroup.com and tanthony@publiclawgroup.com, respectively.