Only an employer can violate the minimum wage and overtime provisions of the federal Fair Labor Standards Act (FLSA). But the statute's nonretaliation provisions are broader and may sweep in "any person" who retaliates against an individual based on conduct protected by the FLSA.
The 9th Circuit—which covers Alaska, Arizona, California, Hawaii, Idaho, Montana, Nevada, Oregon, and Washington—recently found an employer's outside lawyer to be such a person after the lawyer attempted to arrange the detention—and possible deportation—of an undocumented worker when he appeared for a deposition.
Undocumented Status Used Against Claimant
"Fernando" was hired in 1995 as a milker for Angelo Dairy in California. The dairy, owned by three members of the Angelo family, didn't complete an I-9 form to establish Fernando's employment eligibility. Instead, they used his undocumented status to keep him in their employ. When Fernando reported in 1997 that he had a job offer from another dairy, the Angelos threatened that if he left, they would report the competitor to federal immigration authorities as an employer of undocumented workers. So Fernando stayed on.
In 2006, Fernando sued Angelo Dairy in California state court for various workplace violations, including failure to pay overtime and to provide rest and meal periods. After protracted proceedings, the case was finally set for trial in August 2011.
Ten weeks before the trial date, Anthony Raimondo, the Angelos' attorney, set in motion a plan to derail the lawsuit. He enlisted the services of U.S. Immigration and Customs Enforcement (ICE) to apprehend Fernando at a scheduled deposition and then deport him. Raimondo also had plans to block an attorney from California Rural Legal Assistance from representing Fernando. These efforts were documented in e-mail messages between Raimondo, one of the Angelos, and an ICE official.
When Fernando found out that the Angelos had been providing information about him to ICE, he became fearful of deportation and separation from his family. Due in large part to those fears, he settled his wage and hour claims in July 2011. Nearly 2 years later, he filed a new lawsuit against both Angelo Dairy and Raimondo claiming unlawful retaliation under the FLSA.
The Angelos settled the second case, but Raimondo argued that he couldn't be liable for FLSA retaliation because he had never been Fernando's employer. The trial court agreed with Raimondo's position and dismissed the claim against him. Fernando appealed.
Could Employer's Lawyer Be Liable for Retaliation?
The 9th Circuit began its review by focusing on the FLSA provision prohibiting retaliation. The statute bars "any person" from discharging or discriminating against any employee because of the filing of a complaint under or related to the FLSA.
A private legal action for retaliation may be filed against an employer as well as "any person acting directly or indirectly in the interest of an employer in relation to an employee." Under the FLSA, the term "person" includes a "legal representative."
The FLSA protection against retaliation, according to the court, is separate and distinct from the statutory provisions on payment of wages. Only an employer can violate wage and hour obligations, but retaliation is "a different animal altogether."
The prohibition of retaliation is designed to enable workers to avail themselves of their statutory rights, including filing legal actions if necessary. So a person who isn't an employer may nonetheless be liable for retaliation under the FLSA if he acts directly or indirectly in an employer's interest to deter such claims.
According to the court, Raimondo's actions on behalf of the Angelos subjected him to the FLSA's antiretaliation provisions. Information in the record showed that he had established a pattern and practice of such tactics against plaintiffs who had asserted workplace rights.
Apparently to show that he hadn't used threats of deportation, which might violate professional conduct rules, Raimondo acknowledged that "the time when I have had litigants deported, I have always simply taken action rather than make any threats. The attorneys find out when their clients are already gone." From the court's viewpoint, such action was "underhanded."
The 9th Circuit observed that forbidden retaliation isn't limited to actions taken in the workplace. It includes harm outside the workplace that could deter claimants from coming forward to enforce their rights. Raimondo's pattern and practice of contacting ICE about suspected undocumented claimants would certainly have just such an effect.
The claim was returned to the trial court for further proceedings. Arias v. Raimondo, Case No. 15-16120 (9th Cir., June 22, 2017).
Beware of Acts That Aim to Harm a Claimant
This case draws a clear distinction between the substantive requirements of an employment law—such as wage and hour obligations—and the prohibition on retaliation against those who pursue substantive claims.
Employers should understand that they can't lawfully carry out retaliation through their lawyers, and lawyers should understand that they might have individual liability if they engage in retaliation against claimants—such as arranging their detention and possible deportation.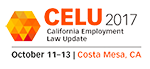 Stay up-to-date on all the latest California wage and hour laws when you join Chris Scanlan of Arnold & Porter Kaye Scholer as he presents the breakout session—"Wage and Hour Alert: New Compliance Risks Under Equal Pay Legislation, 2-Tier Minimum Wage System, Court Rulings on Breaks and On-Call Time, and More"—at the 12th annual California Employment Law Update (CELU), being held at the Westin South Coast Plaza in Costa Mesa, California, October 11-13. Click here to learn more, or to register today.
This article originally appeared in California Employment Law Letter.