In part one, we began to explore what to look for when you look for quality recruiting software. Today we'll look at features like improved data governance, compliance, and adaptability.
Improved Data Governance and Compliance
As the only consumer-facing part of HR, the recruitment platform is the entry point to your organization for candidates and their information. Since most organizational data derives from the hiring process, it is crucial that it is clean and easily transferrable. Fortunately, when recruiting and human capital management (HCM) software are well-integrated, it allows for uninterrupted transfer of all data related to a person's profile between platforms.
Once candidates are converted to hires, a rich candidate profile is automatically sent to the HCM, and it does so in a way that feels like a natural extension of core HCM technology. This could include information related to a candidate's progress throughout the recruitment and onboarding process, their qualifications and certifications or a new employee's contact and employment information and job search history by location.
In manufacturing, for example, credentials can at times be a driver of employee scheduling requirements. If the recruitment platform documents the verified credentials upfront and then accurately shares that information with the HCM once those hires are made, the dataset serves as a single source of truth, greatly reducing manual data entry and mitigating security and compliance concerns regarding such scheduling requirements.
Flexibility to Adopt Modern Functionality
A best-of-breed recruitment platform does much more than track applicants; it allows organizations to select and layer solutions to fit their unique business challenges. A well-curated combination of talent acquisition features and functions is necessary to adjust to today's constantly changing talent demands and behaviors.
Take for instance that according to the latest Candidate Experience Report from iCIMS, the clear majority of job seekers (69%), and 83% of Millennials, use Google as part of their typical process of searching for open jobs and researching potential employers. An HCM-born recruitment module simply isn't able to make fast, focused career site SEO adjustments in response to the latest Google for Jobs algorithm. Best-of-breed providers are more nimble by design and can invest more in recruitment-area advances.
A Seamless Candidate Experience
Today's job seekers are tech-savvy online shoppers who have done their research and approach the job hunt like any other major purchasing decision. As the front door to your organization, the talent acquisition process can make or break public opinion of your brand and can ultimately determine whether you're landing the right-fit talent.
As iCIMS survey findings confirm, the overwhelming majority (95%) of people agree that the way a potential employer treats them as a candidate is a direct reflection of how they would treat them as employees. Candidates view their employment as an overall experience, end to end. Based on the strength of available application and interviewing tools, the career site interface and overall recruitment workflow, candidates can and will make assumptions about your company culture, work style and capacity for innovation. And candidates make this assessment fairly quickly.
According to data from the iCIMS platform, candidates who abandon the online job application process tend to spend an average of four minutes applying before deciding to leave the page and not complete the application. Employers need to frequently evaluate the experience they are providing candidates to minimize this drop-off.
As businesses continue to compete for much-needed talent, it's increasingly critical to harmonize all elements of employer branding, applicant tracking, HCM and operational workflows with a more candidate-centered design approach. Simply put, start with the best available recruitment platform and branch out from there. Hiring success will always translate to business success in the end.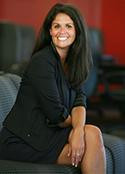 As Chief Marketing Officer at iCIMS, Susan Vitale is ultimately responsible for shaping and sharing the iCIMS story across various audiences, including prospective and existing customers, the media, industry thought leaders, employees and candidates. She is also responsible for iCIMS' brand strategy across public relations, events, advertising, product marketing and content marketing.Vitale takes pride in converging the worlds of recruitment and marketing, and incorporating this passion into the company's own recruitment marketing strategy. Given iCIMS' role in talent acquisition, she has a deep understanding of how to effectively manage recruitment advertising investments, social recruiting strategies, candidate relationship management (CRM) and recruitment events. As a member of several online mentoring communities, Vitale provides career advice and insight on finding the right career fit for young professionals. She also serves on the board of advisors at Switch and is a member of the board at NY/NJ Baykeeper Association.