Changing corporate culture is a bit like deciding to live a healthier life.  It might feel like it will take a really long time. Concepts like "healthy" and "culture change" are amorphous, subjective, and often emotionally charged, not to mention daunting.
But behavior changes—no matter how small—are concrete, simpler to execute, easier to measure, and satisfying because they show progress. With behaviors, there isn't wiggle room. You're either eating the vegetables or you're not.
So, why not take some incremental steps to get started? Add vegetables to your lunch a couple of times a week. Take an extra lap around the block when you're out with your dog. And, similarly, make some small changes—which could add up to big results—as you work toward a more diverse and inclusive organization.
In most companies, the diversity and inclusion conversation is part of a broader discussion about culture. But when we tie diversity and inclusion to this big, complex concept of changing culture, we don't expect to see substantial change right away. We get comfortable thinking it's OK for change to feel ambiguous and to take a long time.
But the business case for diversity is clear. Boston Consulting Group research shows that companies that have more diverse management teams have 19% higher revenue. Establishing a more diverse and inclusive workforce is sure to foster greater innovation, making it top of mind for every business leader at every company.
The pathway to progress with diversity can be just as clear. My suggestion is to get the ball rolling now, one tactic at a time, so you can have the most immediate impact. By focusing on simple starts, or small behavior changes, we can see real, tangible change that can begin today.
Here are some tips for getting started.
Don't Get Mired in How You Hire
First, make subtle yet significant tweaks to the hiring process. Your company won't magically become more diverse if you follow the same practices and procedures you've always used.
A great place to start is to thoroughly review any existing job descriptions. Too often, we recycle them every time a job opens. Pay attention to how phrasing might attract (or repel) candidates and what skills are truly needed for the job. Use inclusive language to appeal to people with diverse backgrounds and experiences.
Also, look to adjacent industries for skills that could translate to your business. For example, the skills necessary for hospitality and service roles may be traits required of customer service associates, too. By reconsidering what skills truly need to be inherent in a candidate vs. what can be learned on the job, you will soon be sourcing talent from new places.
When it's time to begin interviewing, assemble an eclectic panel of interviewers. The same people will likely ask the same questions, and come to the same conclusions, every time they query a candidate. By mixing up who does the interviewing, your newcomers may ask candidates different questions and uncover opportunities—or red flags—that others may have overlooked.
Ready to narrow down your list of finalists? Check if your two final candidates look and sound the same. They shouldn't. Start requiring viable final candidates with diverse backgrounds. This mandate alone acts as a trigger for a series of behavior changes throughout the recruiting and hiring process.
Transform Talent Development
The same old training and mentoring programs just don't cut it anymore, especially if you're eager to engage your talent in ways that will foster a more inclusive organization.
Most large organizations have affinity groups for underrepresented employees. Here at Fidelity, we have groups that bring together employees who are women, veterans, people of different abilities, Black, Latinx, Asian, and LGBTQ+. Tap into these groups to find job candidates, new perspectives, and fantastic mentors.
Speaking of mentors, seek to create mentoring relationships on your team that incorporate diversity. Pair people of different ages, genders, backgrounds, ethnicities, and job experiences. And while you're at it, find yourself a reverse mentor with a distinctly different background from your own.
Finally, when it's time to conduct talent reviews, always discuss your underrepresented employees first so they are not overlooked. This helps prevent decision fatigue and unconscious bias and prevents diversity from becoming an afterthought.
Make Some Everyday Pivots
Eureka moments don't change organizations all at once. But several simple starts can eventually lead to a major evolution. Start with … yourself. Take a good, long look at your personal influences; choose to expand who you follow on social media, the podcasts you listen to, the authors you read, and even the toys you buy your children. To balance your world view, seek out influencers with different mind-sets and experiences from your own. Doing so will have a carryover effect in your work life, too.
On the work front, the next time you and a colleague are brainstorming, head to the cafeteria or an open space instead of your office, and "work out loud." Engage anyone and everyone who walks by, regardless of his or her role at the organization. You'll be surprised by the insights that arise from people outside your network.
Most importantly, start embracing the power of your own choice. Instead of thinking, "I can't rewrite this job description," think, "I choose not to rewrite this job description this time." It takes willpower and the occasional trade-off, but that simple language shift can drive up the level of personal accountability and help us make a different choice next time. Yesterday's excuses won't lead to tomorrow's progress.
Everyone is balancing competing priorities, and we won't be successful all of the time, but we can all find ways to start. There is no wiggle room on whether you can smoke in the workplace. We must start thinking the same way about diversity and inclusion practices.
Implementing one or two of these practices each quarter is feasible. Behaviors will eventually become habits, and habits will endure to create a culture where more employees feel included, do their best work, and leverage their differences to generate true innovative thinking.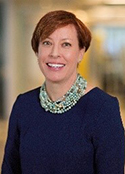 Amy Philbrook is the Head of Diversity and Inclusion at Fidelity Investments, a provider of investment management, retirement planning, portfolio guidance, brokerage, benefits outsourcing, and other financial products and services to more than 26 million individuals, institutions, and financial intermediaries.

Philbrook assumed her current position in 2017 and leads the effort to ensure that Fidelity is a service provider and workplace where people can fully be themselves. In her role, she is responsible for creating and attracting a more diverse workforce, tapping into the power of our differences to develop and retain talent, creating a culture of inclusion, and showcasing Fidelity's reputation and brand as an inclusive employer and service provider.

Philbrook joined Fidelity in 1995 and has held a variety of positions throughout the firm, including in Human Resources, compliance, retirement investment services, marketing and sales, and quality assurance and risk management. Before joining Fidelity, she worked in Human Resources for Fish & Richardson P.C., an intellectual property and litigation firm.

She received a Bachelor of Science in political science and government from Northeastern University. She also holds the FINRA Principal Series 7 and 24 licenses.