Over the last decade, video has shown to be the most engaging form of content. We see it across social media, company websites, streaming services, and beyond. In today's highly visual digital world, companies are always looking for new, innovative ways to incorporate video into their technology stack.
While sales and marketing have been the more traditional use cases for video—whether sending a video to a prospective client to demo a product or leveraging a video to showcase a customer success story—today, video is more scalable than ever, and it's become beneficial to entire organizations, including Human Resources departments.
The hiring process, in particular, is one that's been primarily text-driven to date—lengthy job descriptions, listicle résumés, and e-mail follow-ups are just a few ways recruiters and candidates communicate about an open job. What's odd about this? Technology has evolved exponentially over the last decade, but the recruitment process hasn't changed much at all.
According to the Monster State of the Candidate Survey 2019, 72% of people predict video will play a role in the future hiring process because companies have realized that adding video to the mix means they can stand out against the hundreds of other available job postings. Most significantly, video offers potential candidates a crucial experience that's currently missing from the majority of job boards: the ability to see a brand's unique culture.
Incorporating video into the hiring process is two-fold: It allows companies to promote the uniqueness of their brand while opening doors for candidates to highlight their greatest assets and show (not tell) why they're the best for the job.
Here's how we're seeing video impact hiring:
Companies Can Find the 'Right Fit'
There have been plenty of instances when candidates apply for a job without realizing the company isn't as much of a cultural fit as expected. Why does this happen? It's difficult for a company to portray how it operates, motivates employees, and encourages collaboration through a text description.
By leveraging video, a company can put forth its culture from the start and weed out the candidates who may not desire similar work environments. Whether it be the employee training program, the annual teambuilding trip, or the happy hour Fridays, there are certain company traits that attract particular candidates but that may not be for everyone.
By allowing candidates to see a company's vision through video, they're more likely to relate to company values and be more inclined to have an interest in applying.
Candidates Become More Than a Résumé
While organizations are leveraging video to show off their brand, candidates can do the same by making their personal résumé come to life in a video. Résumés are traditionally lengthy and detail-oriented and typically only focus on a candidate's job qualifications.
But although being professionally qualified from a skills standpoint is a must, it's equally important that candidates possess the personal traits companies are looking for: confidence, leadership, motivation, etc. These characteristics can be written in a résumé, but they can be shown in a video, and that's what makes one candidate stand out from another.
Résumés don't accurately portray the entirety of a candidate, so videos are imperative in supporting a candidate's case as to why he or she is the best fit for the job. Videos make the job application process less about what a candidate accomplished in the past and more about his or her future potential and what he or she could accomplish in a new role.
How Can You Implement More Video?
There is a plethora of video tools and services on the market today, but it's critical to implement a solution that not only offers the ability to create and share videos but also incorporates all elements of the modern digital experience.
Monster is one company that's bridging this gap by using video to build better connections between companies and candidates. Through its mobile video app, Monster Studios, recruiters can easily record, edit, and publish video job descriptions so candidates can see the most authentic representation of the job, company, and culture.
By launching this app, Monster is bringing the mobile experience that people are already familiar with to the job application process, which is a win-win on both sides of the hiring process.
Being a business today most likely means being challenged with fierce competition on not only the product side but also the talent acquisition side. To ensure a company is attracting the best talent, which means candidates who fit both the job description and the culture, it's important to leverage interactive formats like video that put forth a digital-first recruiting approach and show how a company is invested in putting engagement at the heart of its communication efforts.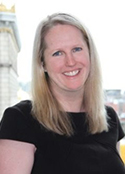 Carrie Walecka is the VP of Talent Acquisition at Brightcove, a global provider of cloud services for video. As a talent finder and connector, Carrie is passionate about connecting the right people with the right opportunities.