The "future of work" can often feel like an ambiguous concept. Technologies like artificial intelligence, 5G, augmented reality/virtual reality, and machine learning are nebulous concepts that can still seem years away from actually impacting certain lines of business.
One thing is clear: Continuous technology advancement is the crucial enabler that allows people to efficiently carry out business tasks. From software-as-a-service (SaaS) apps to cloud storage, the modern worker now relies on a variety of different solutions to get things done, and it's critical those solutions work well together.
It's essential for employers today to have the proper foundation in place to ensure technology not only works consistently without any hiccups but also empowers productivity.
How can you take steps today to ensure your organization is prepared for the technology advancements of tomorrow?
Take Action Now
While convenient, remote work has its own set of security risks—take action now to prevent a potential breach. With 80%–90% of U.S. workers acknowledging they would like to work remotely in some capacity, it is clear this is not a passing trend but rather an element already deeply embedded into modern work.
However, as remote working garners more momentum, it is crucial for organizations to take the proper security measures to ensure sensitive data are protected when workers are outside the office network.
There are inherent security risks with personal home networks and the precarious public Wi-Fi offered at coffee shops and airports. Virtual private networks (VPNs) establish a secure connection between a device and the office network. Employers should mandate that remote workers use VPNs to prevent sensitive information from being susceptible to any prying eyes on the network.
Single sign-on (SSO) and multifactor authentication (MFA) help protect the data within cloud applications. For example, SSO allows employers to give employees access to all applications when in the office but only a select few when working remotely as a safeguard.
MFA helps ensure that the right person is trying to gain access by adding extra levels of authentication when logging in. For example, Gmail offers an MFA option by sending a code via text in order to grant access to an account.
Secure Mobile Devices
As your workforce adds more devices, it's essential to secure these endpoints with mobile device management (MDM). The days of the modern employee working from just one, company-issued device are long gone. Roughly 61% of organizations today expect employees to be available remotely, even if they don't provide them with a company phone. This means most modern workers will access their work e-mail or Slack app on the go, whether it's from a company-issued device or a personal one.
Every device used to access company systems is yet another endpoint to secure, so it is critical to identify ways to reduce risk. Ensure you have an MDM solution in place. MDM provides an enhanced level of control over employee-owned devices, mitigates the risks with stolen devices, and segregates corporate applications from personal applications.
For example, if an employee forgets his or her laptop in the airport when rushing to catch a flight, an MDM system will allow you to remotely wipe it immediately to ensure sensitive information does not get into the wrong hands.
Third Party Vendors Help Remain Compliant
With an increasing number of regulations and frameworks around data, consider leveraging an external security partner to remain compliant. With heightened consumer awareness around data protection due to consistent breaches, it can be difficult for small and midsize businesses (SMBs) to ensure they are taking the right steps to comply with frameworks like SOC 2 or laws and regulations such as the Global Data Protection Regulation (GDPR), the California Consumer Privacy Act (CCPA), and New York's Stop Hacks and Improve Electronic Data Security (SHIELD) Act.
Each of these frameworks and laws has its own set of stipulations that can be confusing. On top of this, more devices collecting more data will yield even more regulations to follow.
SMBs don't always have access to the same resources a large enterprise does when it comes to data security, which creates additional challenges to keeping up with the growing number of regulatory frameworks. By working with an external security partner, you can make the process of compliance simpler for your entire organization by leaving it to trusted experts.
While there is no shortage of tools available to make work processes more efficient, having the proper IT infrastructure in place before taking advantage of new technology is essential. By implementing these recommendations and practices right now, modern workers will be more than prepared to thrive as we look to the future of work.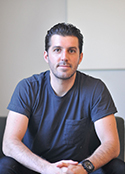 Ryan Denehy is a three-time entrepreneur and the founder and CEO of Electric. Having experienced the pain and frustrations that many business owners encounter in managing their IT infrastructure and support needs, Denehy's light bulb idea to create a cloud-based, real-time, 24/7 IT support ecosystem laid the foundation for Electric's vision to redefine IT support for a new generation. Connect with Denehy on LinkedIn and Twitter.