Have you seen the new dating show Love is Blind? It's wild and wacky, as is any reality show, and it was created on the premise that couples have real human interaction and get to know each other before ever meeting face to face, and then they ultimately get married … all in 4 weeks. Crazy, right? But, isn't this what we do every single day when we find, recruit, interview, and hire employees?
There's a whole host of technologies available to help streamline HR: At last check, there were over 35,000 software products on the market targeting the HR tech space. This disruption is great! But, in trying to solve, streamline, and improve processes with technology, we've lost something incredibly important: human intelligence.
Being a founder and CEO of one of these technology companies, it got me thinking about how similar hiring and Love is Blind really are.
Stage 1: Curiosity and Courtship
I've long believed that hiring is like a courtship. In the beginning, the candidate and the company are both trying to impress each other. Résumés are full of achievements and praise of great work; job postings slather on how great the workplace is and all the perks offered: free food on Wednesdays! Ping-Pong tables and scooters in the office! The prehire period focuses on interest and whether there is potential to move to the next step in this hiring-dating game.
Then, it's the "getting to know you" phase. Today, much of this is done via the phone or video call, and it is similar to Love is Blind in that you are trying to get to know someone as quickly as possible and determine if there is potential for a long-term relationship … all in a 30-minute conversation.
Everyone is on his or her best behavior. The candidate speaks highly of his or her accomplishments, outlining why he or she is the best person for the job. The HR manager outlines the position and expectations and thoughtfully questions the interviewee to determine if he or she is a fit for both the job and the company culture.
With some luck, the candidate will then meet others within the organization to vet whether this potential partnership makes sense for both sides and if they can see themselves together for the foreseeable future.
Stage 2: Enlightenment
If they decide to take this relationship to the next level, then it's time to "meet the parents." In hiring, that's the reference check. These are the people who know a candidate's work ethic, soft and hard skills, and management style—all important things to know before you get into this big relationship, right? But they also aren't things you can understand just by reading a piece of paper or talking to the candidate.
This is a crucial step in the job/marriage process, as these human insights will give you a more holistic sense of what makes the candidate tick and why he or she is (or is not) the right person for the job.
This is where a combination of data, technology, and human intelligence comes into play. You get to know a person through those who know him or her best, and this helps to really get to the heart of whether this person is the right fit for the role.
In Love is Blind, this step foiled a few burgeoning couples; thankfully, HR technology married with human insights can similarly avoid mismatched outcomes and help companies find the best match.
Stage 3: Commitment
Say you've both decided to say "I do." How do you know this is going to be a long-term partnership and not just a fling? Retaining this relationship is critical; each party can decide to get out at any time, and each side has to want to make the relationship work.
Retaining great employees should be at the top of every company's to-do list; it's certainly on mine, starred and underlined. Making sure your employees are happy, their work is valued and appreciated, and they feel like their contributions are helping in the business's overall success is key to longevity, much like spouses in a marriage.
Thankfully, hiring isn't a dating reality show. But the most important lesson is that, even with all the technology available today, the crux of finding, hiring, and retaining great people is human intelligence.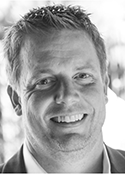 Michael Fitzsimmons has a long history of creating companies that disrupt the status quo to create change that benefits consumers and businesses alike. Frustrated with bad hires, Fitzsimmons cofounded Crosschq to pioneer a new category for talent acquisition that harnesses the power of people to help companies better source, match, and retain the best people. With a mission to build better businesses, Crosschq takes a talent-first approach that prioritizes trust and transparency, minimizes bias, and protects privacy.

Before Crosschq, Fitzsimmons founded and was CEO at Connekt, Inc., and Delivery Agent, an interactive commerce company acquired by Hillair Capital in 2016. His corporate business expertise, from finance and sales to technology and development, has made him a thought leader for entrepreneurs and a sought-after expert for CNBC, CNN, Bloomberg, The New York Times, and Forbes.

Fitzsimmons has partnered with top companies like Comcast, CBS, Fox, Disney, HBO, Sony, Amazon, LG, and PayPal and successfully raised over $200 million in capital from financial and strategic investors. He's received multiple awards, including the Inc. 500 Fastest Growing Media Company, Ernst & Young Entrepreneur of the Year Finalist, and Deloitte & Touche Fast 50 Silicon Valley. Connect with Crosschq on LinkedIn.