Following Massachusetts' lead, more states and cities are enacting—or at least considering—laws that prohibit employers from asking job applicants about their salary histories. The efforts are aimed at reducing gender pay disparities.
The latest to join the growing list is Pittsburgh, Pennsylvania. The mayor recently signed legislation forbidding city agencies from asking about job applicants' prior pay.
Existing Salary History Inquiry Laws
While Massachusetts remains the only state with a salary history ban affecting private employers, New York prohibits such inquiries by state agencies. Several cities also have adopted bans.
Massachusetts. Massachusetts enacted its prohibition last year as part of a broader equal pay law, and it takes effect July 1, 2018. Specifically, it forbids employers from asking applicants to disclose pay history until after the employer makes an offer. The state law also forbids pay secrecy requirements, meaning employers can't discipline workers who choose to discuss compensation with each other. (For more information, see Landmark equal pay law enacted in Massachusetts.)
New York and New York City. New York state adopted a ban for state agencies earlier this year. In an executive order, the governor said that the state may no longer ask job applicants for salary history before it makes an offer.
And late last year, New York City's mayor did the same, forbidding NYC agencies from seeking information—either through the individual or public records—about an applicant's previous wage, salary, or benefits until after an offer is made.
A bill extending these provisions to private employers throughout the state was introduced in New York's senate on January 4.
New Orleans, Louisiana. Similar to New York City's ban, New Orleans now prohibits city agencies from requesting applicants' salary histories. The city's mayor signed an Executive Order forbidding the question January 25 and it took effect immediately.
Philadelphia, Pennsylvania.  Philadelphia's mayor signed a salary history bill into law earlier this year and it is set to take effect May 23. The new legislation appeared to be in jeopardy when a major Philadelphia employer, Comcast, threatened the city's mayor with a lawsuit if he signed the bill. The mayor, however, told local media outlets that "what is good for the people of Philadelphia is good for business too." The prohibition extends to private employers.
Pittsburgh. Pittsburgh's city council passed a bill January 24 that prohibits the city from asking about a job applicant's salary history. It also forbids the city from relying on wage history in the employment process, unless the applicant volunteered the information. The council sent the bill to the city's mayor and he signed it January 30, according to his office. It took effect immediately.
Salary History Ban Proposals
Other states and cities, and even Congress, have considered salary history bans but had less success in enacting them.
A federal bill was introduced in Congress last year but died in committee. H.R. 6030, known as the Pay Equity for All Act of 2016, would have amended the Fair Labor Standards Act to make it illegal to ask an applicant to disclose information about his or her previous compensation.
California also attempted to adopt a salary ban but the state's governor vetoed the bill. Replacement legislation that the governor ultimately signed didn't contain a ban but instead stated that "[p]rior salary shall not, by itself, justify any disparity in compensation."
Recent efforts in New Jersey were unsuccessful when the governor vetoed a salary history bill. A similar proposal in Virginia has been tabled indefinitely. A bill before the Washington, D.C., city council died when the council adjourned January 2.
One pending measure in Washington state appears to still have a chance. A legislative committee recently approved a bill that would prohibit employers from requesting an applicant's salary history before they make an offer. According to local media, the bill will now be considered by the legislature's rules committee.
Future Efforts
Going forward, employers can probably expect to see more of these laws, experts say, particularly in those places that have already adopted provisions for public employers.
When New York passed its law, Robert Graber, CEO of Long Island Temps, wrote in an op-ed for Long Island Business News that he expects the state's requirement will soon be expanded. "While the law only covers the public sector, it's safe to assume that the mandate will be extended to the private sector in the foreseeable future," he said.
And when New Orleans' mayor signed the order that applied only to the city's hiring practices, Proskauer Rose LLP told clients that private employers could be next. "While the [E]xecutive [O]rder is limited to City employees it may signal a willingness to move in that direction for private employers in the future," the firm's attorneys said in a January 30 alert. "Private employers would do well to continue to monitor developments and consider reviewing their hiring processes in advance of any future changes to local and state laws."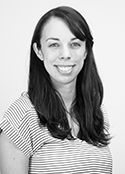 Kate McGovern Tornone is an editor at BLR. She has almost 10 years' experience covering a variety of employment law topics and currently writes for HR Daily Advisor and HR.BLR.com. Before coming to BLR, she served as editor of Thompson Information Services' ADA and FLSA publications, co-authored the Guide to the ADA Amendments Act, and published several special reports. She graduated from The Catholic University of America in Washington, D.C., with a B.A. in media studies.