Today's workforce is evolving at an accelerated rate—it's more digital, more global, and more automated than ever before. And what's more, organizations are expected to adapt to this change almost immediately while balancing consumer demands and business needs. In fact, recent studies found that 88% of executives believe building the "organization of the future" is the most important challenge for 2017, yet only 11% actually understand how to do so.
Add in the challenge of different technologies in different offices, with employees of different generations, plus language and learning barriers, and this task can start to look pretty daunting. However, there is one hidden key to solving the inherent problems with the future of work: Human Resources. In fact, HR teams have a responsibility to empower their organizations in today's digital age and, in doing so, create a more impactful work environment by merging technology and people for the future of work. Here are a few tips HR professionals can use to combine the world of technology with the future of work.
Integrate Work AND Life
Company culture is key for employees' growth, mental and physical wellbeing, and can even impact the company, itself. If employees feel nurtured in their workplace, it has been proven that they will perform better and feel as though they have a real stake in the success of their company. It's important to provide employees with the individualized tools that they need to do their job as best as possible.
To support this notion, Mitel has adopted tools like LinkedIn Learning (previously known as Lynda.com) as an e-learning platform for its employees. E-learning tools empower staff to be active participants in their own learning process, should they be interested in cultivating new skills for both their own personal growth as well as growth at their company.
In addition to technology and career-focused topics, these tools give employees the opportunity to learn skills for things that they are passionate about, like photography and design. Having access to an e-learning platform, even on a mobile device or while not connected to the Internet, gives employees a much greater access to learn on their own time and even outside the office.
Stay Connected
With globalization effecting many organizations today, business leaders and HR departments need to make a conscious effort to stay connected. This includes using collaboration tools, such as video chat and instant messaging and promoting diversity amongst staff. It is important to note that while some companies might elect to use multiple collaboration tools to communicate with their internal teams across borders, a better choice is a singular unified communications tool that is built to integrate with and collaborate across organizations.
Additionally, systems like Workday can handle the majority of HR/human capital needs, spanning from tracking personal information to career progression and development/performance plans to hiring. Employees can also use these platforms to record their vacations and personal time. In addition, most of these platforms are available via mobile apps, so managers can approve vacation time and employee goals on the go. Using robust and comprehensive tools truly simplifies all of the administrative work that we have to manage as an HR team and for the employees themselves.
Attract and Retain Talent
All in all, there is a fine-line when it comes to having a well-balanced workforce—but, if you can't attract younger talent while also training and keeping your current employees on top of their game, all of your company's knowledge will eventually dry up and your business will not operate as well as it should.
In addition to supporting social activities among employees in the office, Mitel leverages interns during summer breaks or even during the school semester. What Mitel has found is giving these students "real" work to do, not busy work, in addition to allowing them some creative liberty, exposes the younger future workers to the reality of joining the workforce, engages them in real business decisions, and excites them about coming to work for Mitel in the future. Mitel even has some interns helping with projects involving social media, which is certainly considered "domain knowledge" for the younger generation.
Keep all generations in mind when implementing technologies or programs, whether that means integrating more social technology, adapting to Millennial learning styles, or more face to face meetings—in person or virtual—it is important to strike a balance.
That said, a true integration of technology and good talent will make the world of difference as the workplace evolves. Digital transformation is looming and companies need to be prepared to operate in the future of work, namely with HR empowering their organizations to embrace these changes for real success.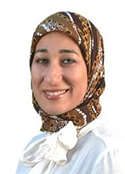 Mona Abou-Sayed is Vice President of Organizational Development and Talent at Mitel. She has more than 20 years of experience in varying business roles in the technology and communications world, which brings a unique perspective to her current role in human resources. She has served in roles in both product management and customer operations, and as a continuous improvement leader. Mona received her bachelor's degree in management science and her master's degree in operations research from Southern Methodist University in Dallas, and is also a certified Project Management Professional (PMP) through the Project Management Institute (PMI) and an Associate Certified Coach through the International Coach Federation (ICF). Mona grew up moving all around the U.S. until she settled in Texas, where she has been living for the last 30 years.