As companies look for and test different approaches to replacing the traditional performance evaluation, they're embracing effective two-way feedback skills and creating cultures that understand how to give and receive.  Every step of the feedback process sends signals that the culture of your organization is changing and becoming more open and innovative.
Feedback is an important part of a collaborative and effective culture.  A "feedback culture" builds morale and retention – improving the culture even more.  However, for feedback to work, it must be delivered on a personal level, which also helps build a stronger, more personal culture.  And to personalize those conversations, it's also important to consider the generation of the employee and, most importantly, to embrace different styles of thinking from each generation.
From the Millennial to the Veteran generations, the following are insights on how they best receive feedback, as well as tips for employers to best deliver generational-targeted feedback.  I have also provided an infographic at the end of the article with key takeaways.
Millennials
Be specific with all feedback, and get to the point quickly.  Use Millennials' impatience to your advantage, setting up goals and deliverables that can be achieved quickly.  Conversely, use your feedback sessions to show them that in some cases, slow and steady can also be effective.
Use Millennials' technology comfort levels to your advantage – and to the advantage of your feedback. Email, text messages, video chats and PowerPoint presentations can be effective with this generation.
Make lists and summaries of feedback, and have Millennial employees do the same. Then compare lists.
Add humor and, if appropriate, irony, to your feedback session. They appreciate a good laugh!
Generation X
Generation X employees love challenges, so make sure their work (and your feedback) includes stimulating projects and thought-provoking responsibilities.  Find areas where flexibility and nonstandard approaches to tasks can be implemented.  Consider that Generation X employees are likely to resist responsibilities that limit their family time, so negotiate the balance that best suits your employee's family concerns with your business goals.
Provide a printed copy of their evaluation, something tangible they can take home.
Offer further training if you feel – or more importantly, if they feel – that their potential is not fully tapped.
Reward positive performance quickly – don't wait.
Generation Jones
Generation Jones' employees are late Baby Boomers to early Gen Xers who have reached the stage of their careers where they are willing (and determined!) to be discerning. Be prepared for pushback or negotiation when offering new responsibilities.  They are used to having plenty of choices, so structure your feedback sessions, when possible, and offer different options.
Tailor your feedback to include appealing incentives.
Discuss the type of options that might appeal to them, such as a flexible schedule – which could be worth more to them than a raise.
Bring big questions to the feedback session, such as long-term goals, security and late-stage career growth.
Baby Boomers
Boomers are an extremely diverse group.  They are willing and eager to experiment with innovation and creativity.  Big goals are super important to Boomers, who are eager to make sure that they have "made their mark" – so your feedback sessions should be aimed at determining the employee's goals.
Be aware that retirement and financial security is top of mind for Boomers, so feedback sessions should include acknowledgement of planning, strategizing and reaching goals.
Listen to the employee, as Boomers have both opinions and the experience to back up their options.
Learn from the employee, as their feedback can be invaluable for your business, as well.
Veteran Generation
These employees, who are age 65 and older, are aware that they are in the latter stages of their careers and have insightful thoughts to share.  While their physical energy might be less than their counterparts, their interest and concern for the company is typically more.
Don't be condescending, don't raise your voice and don't simplify your language, because of the employee's age.
Ease any concerns they may have about being "put out to pasture."
Be honest and also delicate, maintaining the employee's self-respect and value to the company.
The best way to bridge generation gaps is to bring employees of different generations together and, when possible, try to achieve a balanced generational composition of your team.  Embrace different styles of thinking, as well as different ages.
A "feedback culture" is about talking, listening and, of course, sharing feedback.  And, the "feedback outcome" is a more productive and collaborative culture, crossing all generations–which is depicted in the infographic below.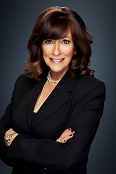 Marjorie (Margie) M. Mauldin, Feedback Revolution author and Executive Forum's founder and president, is an energetic, wise and creative leader who works with Fortune-100 companies, government agencies and municipalities on leadership and feedback training — helping them improve their results, outcomes and business relationships.  Margie is a credentialed master trainer of several programs, including iLoveFeedback.  For more information, visit ExecutiveForum.net, ilovefeedback.com or twitter.com/ExecForumCO.  For questions, please contact Margie directly at Margie.mauldin@executiveforum.net.