From the customer experience revolution to Amazon's continued dominance, the retail industry is embarking on its most transformative journey to date. As the retail landscape rapidly evolves, brands are firing on all cylinders to keep up. Unfortunately, operating at high speeds can often create gaps in key areas of business.
At Square Root, we took an in-depth look at the state of brick and mortar retail in our State of the Store Report. We found that beyond the more widely-known business challenges retailers are facing, the industry has a major people problem. After surveying more than 1,300 store and district managers, or "Store Leadership," we discovered that today's retail leadership is largely unhappy, and that dissatisfaction is creating major barriers to success.
They Can't Get No Satisfaction
We know that relationships are key to retail: customer relationships drive sales, vendor relationships keep products in stores, and the relationship between corporate and stores help brands drive their customer and vendor relationships forward.
According to the report, however, there's a broken relationship between corporate-level management and Store Leadership—resulting in largely unhappy store and district managers. Among Store Leadership, the report revealed an abysmal Employee Net Promoter Score (eNPS) of -20. Compared to "good" company average scores (which range between 10-30), this score speaks volumes about the state of Store Leadership in retail.
While the people challenges plaguing retail are common in any business, they should not be considered the norm. Fortunately, for HR managers industries-wide, there are two major themes (and key lessons to be learned) to blame for retail's people problem: misalignment and poor communications.
There's a Major Misalignment
In retail, unhappy managers (those considered "detractors" based on low eNPS) were 4X more likely to feel misaligned to corporate objectives, and confessed they struggle to understand key priorities within the business.
Misalignment in any industry is a sneaky problem with sweeping impact. It can leave teams feeling disjointed, and make it difficult for individuals to understand their direct impact on company success. And when the "we're all in this together" mentality is absent, teams begin to work toward different goals, at different paces, slowing company progress.
So how can HR teams help prevent this disconnect and keep teams sailing toward the same goal? Steer the ship with vision and values.
First and foremost, HR teams should aim to immerse themselves in their company to better understand how each person impacts the bigger picture. This level of involvement positions the HR team to be ambassadors of the vision, values, and culture, while simultaneously allowing them to keep a pulse on the happenings within each department.
From there, HR should strive to root every company effort in the vision, values, and mission—and look for ways to bring your company values to life by reinforcing them across the business every day. By keeping the larger vision at the helm of initiatives, HR can help ensure individual goals and priorities map back to the bigger picture.
At Square Root, one of our core values is "Partner." When a teammate finds a solution to a customer challenge, we recognize them (with the help of Bonusly) not for saving the bottom line, but for serving as an example of truly partnering to find success. We also weave in regular checkpoints—from peer-to-peer evaluations to one-on-ones with management to quarterly team all-hands meetings—to compare progress against company goals.
Beyond those basics, alignment lives and dies based on how you hire. By prioritizing the company's mission, vision, and values, HR can mitigate misalignment before a new hire walks through the door. As an HR professional, ask yourself: does your organization's interview process heavily involve a culture element? When asking candidates questions, do you focus on attributes that are befitting of your brand's values and vision? If you're not there yet, talk to your team about the attributes you're looking for and communicate them repeatedly.
Communications Are Something to Be Desired
The other major problem we uncovered is poor communication, which plays a key role in contributing to the broken relationship between corporate and Store Leadership. When asked about the state of their brand's communications, unhappy managers were 2X more likely to say their company lacked efficient systems of communication, and 2X more likely to say better communications would improve performance.
But more than personal discontent, poor communication contributes to loss of trust and motivation, with those detractors being 3X more likely to say their boss does not value their opinions, and twice as many believing their supervisor does not have their best interest in mind.
The most effective communications strategies enable employees to freely share information, encourage feedback, and deliver transparency across all levels of the business. Companies that  employ these strategies also meet teams where they are; taking into account and quickly adapting to the varying communication styles of their teams. Think: less talking, more listening.
At the most basic level, frequent one-on-ones among your teams are integral and effective, but regularly scheduled all-hands meetings are another great way to build a sense of community while also keeping the team up to speed on company progress and changes.
Another key tactic is simply innovating on communications strategies; don't be afraid to implement programs and policies that are unique to your brand DNA (and, as we discussed, your vision, values, and mission!). For example, hosting live "Ask Me Anything" sessions with your CEO, where no question is off limits, is an excellent way to give your team face time with company leadership and ensure their voices are heard. Or for the less brazen, anonymous culture surveys continue to be a great way to get unfiltered feedback and keep a pulse on employee happiness.
As many HR pros know, people challenges permeate every aspect of the business. So if it's broken, let's fix it. HR teams should be collaborating on ways to put people first for 2018. By putting emphasis on solid alignment and effective communications, employers in and beyond retail will be able to keep their teams informed, engaged, and excited for the new year. And remember: sharing and collecting information is only half the equation — it's what you do with the information that builds trust, mends relationships and ultimately drives improvements.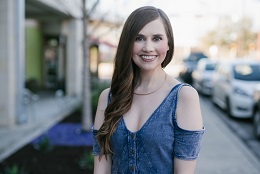 If you ask her, Courtney Branson is the cheerleader of the company; but really, she's the glue that keeps Square Root together. She handles a little bit of everything but is especially good at HR and employee relations. Prior to joining Square Root, Courtney spent several years in HR operations at really large companies, so she brings welcome structure to our rapidly expanding team. No matter what she's working on, Courtney adds a creative touch—keeping employee morale high and company events interesting. She knows just what it takes to pull the best out of people and isn't above the occasional need for coffee/whiskey/cookie bribery. Courtney has a degree in English with minors in philosophy and history from Texas A&M University.