The workplace has changed drastically over the last decade. New technologies allow us to be more flexible about where we work, and the rise of the gig economy has created an extended workforce of freelancers, sales representatives, and other roles that don't fall directly within the company setting.
With these changes, one would assume that corporate training practices are being forced to evolve, as well. However, most businesses continue to use the same style of training tools as they did in 2009.
Today's workforce is simply not fit for top-down training tools, and even recent issues faced by Sephora show that current training activities are not working. Businesses need to prioritize learning and development programs that emphasize informal social interactions, creativity, and adaptability.
Doing so will require the lessening or complete elimination of dependency on traditional methods and, instead, require investment in organic, social learning and learning in the flow of work activities that are aligned with the desires of modern workers and involve them in the learning process.
Meaningful Learning Doesn't Happen Alone
Learning today is not dependent on top-down communication. In fact, some of the best training resources come from peer-to-peer connections in informal settings, most commonly in the flow of work. Creating opportunities for employees to collaborate and mentor one another is critical to developing a learning culture that adapts to change.
With the right training programs, businesses can organically spark and support internal connections that take learning to the next level. For example, artificial intelligence (AI)-powered learning platforms elevate social learning by making suggestions for learners based on individual learning profiles, roles, skills, and career progression.
A platform that understands a learner's career goals could help that user identify opportunities to connect with peers that will help the individual further his or her career development. This might mean directing a given learner to relevant peer-generated content or suggesting a connection with another employee for a peer-to-peer coaching opportunity.
Establishing an interactive environment like this fosters social learning in an organic way. Creating a digital universe in which employees interact this way maximizes the value of social learning, allowing it to not just impact those involved in an in-person conversation but also "go viral" across the workforce through forums, chats, and opportunities by sharing content and centralizing it within their learning platform, extending its reach and effectiveness across the organization.
This type of learning is valuable because it encourages involvement at every level of the business—something a traditional instructor-led program does not do.
Training Should Be Accessible 24/7
The continued rise of the gig economy has created new challenges for companies looking to engage and manage their extended workforce. While those contracted as freelancers, sales representatives, or other roles don't fall directly within the company, they still have a significant influence on brand appearance.
Learning needs to be continuous to have an impact on remote and in-house employees alike, and making training mobile-compatible is the primary way to achieve this. Delivering this type of training makes learning content more of a resource than an obligation.
If learning opportunities are accessible in the palm of your hand, they become that much more valuable—especially for remote employees or gig workers, who don't have the luxury of being able to approach their manager's desk with a question about how to complete a task.
Through mobile training, workers can access information when they need it, regardless of their physical circumstances. Not only does this ensure that they always have backup, but it also heightens loyalty and retention because employees feel they can rely on their employer.
Give Employees the Tools to Carve Their Own Learning Path
In today's workforce, it's important that employees be able to ask questions, challenge norms, and seek input from colleagues. Traditional training programs that focus on a specific set of tactical skills don't enable participants to do this. Implementing learning technology that's rooted in enabling social learning gives employees the opportunity to ask questions, engage with their peers, and share their own expertise.
AI-powered training delivers personalized, adaptive learning experiences that provide workers with the skills they need to progress in their careers and prepare for future change. Whereas traditional training programs approach learning from a "one-size-fits-all" perspective, AI-powered training programs can identify skills gaps or areas of interest and guide employees to specific courses based on those unique traits.
Making training more personal to learners makes them feel engaged and empowered to customize their process. Because this type of training approach considers employee preferences and weaknesses, learning is actually meaningful and allows participants to embrace their creative processes—when it comes to not only learning but also performing their jobs.
Investing in modern eLearning tools is necessary to accommodate today's evolving workforce—and to prepare for the next generation of workers.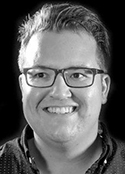 Matt Powell is a seasoned, data-driven content creator managing product marketing and all content production activities for Docebo, an e-learning, software-as-a-service (SaaS) technology company based in Toronto.