On Labor Day, we celebrate organized labor and reflect upon the values, sacrifices, and rewards of work itself. The bulk of our adult lives is consumed with work: getting a job, doing the job, and keeping that job.
The nature of "work" is evolving with the rise of telecommuting, the gig economy, and an increase in freelance, start-up, and coworking options. It's important to examine what forces impact productivity, satisfaction, motivation, and relationships in the workplace.
One study suggests that "actively disengaged" employees cost the United States at least $550 billion each year. Few organizations have made progress in achieving true engagement within the ranks of their workforce.
Behavioral science is an emerging field that uses scientific rigor to combine traditional economics with human psychology. We're talking about "decision-making science" or "nudges."
Behavioral science reveals the force behind employee engagement and provides evidence-based practices to create a road map for organizations creating cultures of employee engagement.
Although many employees want to be more engaged and satisfied on the job, the responsibility of this falls to business leaders, HR departments, and managers.
Here are 3 behavioral design principles for the workplace:
Autonomy
When people say they want "power" at work, they want to have a hand in designing their own work structure and professional existence.
Giving people a voice in how they work and collaborate with colleagues gives them the autonomy they crave. Work co-design heightens interest in their work and loyalty to the organization.
Giving employees small choices increases a sense of control and boosts self-image. Choices can range from decorating the work environment to choosing a mentor, scheduling when they'll work, or shaping their job responsibilities.
Organizations can provide healthy levels of autonomy by focusing on outcomes that provide flexibility while valuing face-to-face interactions to foster networking, productivity, and collaboration.
The design of the "best" work environment is unique to each industry, organization, and employee. Therefore, it's so important to get input from those most impacted by and knowledgeable of the workplace: employees.
Progress Feedback
Teresa Amabile and Steven Kramer in The Progress Principle write, "Feeling progress in meaningful work triggers the sense of accomplishment and other positive perceptions, emotions and motivations that comprise splendid inner work life." In other words, appreciation of meaningful work is an important contributor to work satisfaction.
Make appreciation more valuable. Research shows that monetary rewards are not as motivating as thoughtful, nonmonetary rewards. Experiences, like incentive travel, are more valuable than goods, like a gold watch.
Purpose
Employees, managers, and C-suite executives can get bogged down by daily routine, so connecting to a higher purpose in our work helps us stay motivated and engaged. Connecting to an organization's purpose brings meaning to employees' work. A sense of purpose and meaning are psychologically essential in work and in our lives.
Making an organization's purpose relatable falls upon leadership. Going beyond drafting a mission statement is a wise investment.
Purpose and meaning have a direct impact on an individual's health, well-being, and ability to work in teams. Research shows that pay and job satisfaction are only marginally correlated, whereas senses of coherence, direction, significance, and belonging derived from meaning at work can increase happiness and productivity.
In a 2007 experiment, Adam Grant found that university call center employees who read letters from students who'd received scholarships from donations raised over 170% more of those donations than a control group that did not read such letters. The letters were a reminder of the purpose of their efforts.
Organizations convey purpose by focusing key values and explaining "why" the organization exists. Leadership should establish, articulate, and emphasize purpose using descriptive words that people can visualize; images are more powerful than details.
The world of work is changing. Engaged employees—and the organizations that foster and support that engagement—will be the ones that thrive.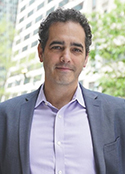 Jeff Kreisler is just a typical Princeton educated lawyer turned award-winning comedian, best-selling author and champion for behavioral economics.

His second book – Dollars And Sense: How We Misthink Money and How To Spend Smarter – was co-authored with Dan Ariely and is available in over 20 countries.  It was dubbed Best Business Book of the Year by Business Insider, Huffington Post, Audible, and the Washington Post ("A brilliant and accessible look at behavioral economics").

Jeff is also Editor-in-Chief of PeopleScience.com, a new thought-leadership platform for applying behavioral science to the modern marketplace.  He won the Bill Hicks Spirit Award for Thought Provoking Comedy, writes for TV, politicians & CEOs, has appeared on CBC, CNN, FoxNews, MSNBC, Current TV & Sirius/XM and has toured most of this planet. Connect with Jeff on Twitter: @jeffkreislerBS, or on LinkedIn: https://www.linkedin.com/in/jeffkreisler/.