The New England Patriots "have no succession plan for Tom Brady," the headline said. "New England has no backup plan for a quarterback," said the commentator.
That makes the legendary NFL team arguably one of the best professional football teams of all time—a lot like many companies today.
That's certainly what we found in our Talent Intelligence and Management Report 2019–2020. We at Eightfold, a talent intelligence platform, conducted 1,500 interviews during summer 2019, speaking to CEOs and CHROs of enterprises in the United States and several European countries. We also spoke with samples of their full-time employees.
Lack of Succession Planning Across the Globe
In the United States, 17% of companies said they have no succession plans at all. Double that in Germany—35% said they have none.
For those companies that do have succession plans, they're often just for C-level executives. Forty percent of U.S. companies said their succession plans were just for the C-suite. In the United Kingdom, France, and Germany, 28%, 32%, and 35% of companies, respectively, said the same.
About one in five companies in the United States and Europe said their succession planning is adequate for all roles.
All that's happening in a job market where unemployment rates, particularly in the United States, are at the lowest level since 1969, and it's a lot easier to quit a job for a new one than a decade ago.
We might hypothesize that companies don't see the importance of succession planning.
But actually, they do.
Succession Plans Are Important, Though
In the United States, a full 80% of the firms we surveyed said they'd benefit from more efficient succession planning. Among European respondents, a solid majority also agreed.
What's the problem here?
My hunch is this:
Companies don't have a good read on who's about to quit. In large companies, they're not keeping track in any real sophisticated way of who is a flight risk based on a lack of growth opportunities or other factors.
HR asks people why they quit in exit interviews after they leave! Managers aren't proactively going to people and saying, "What do you like about your job that we can keep doing? What do you want to do less of? What do you want to do next?" often enough.
Companies don't have a handle on what skills people have. Jonathan's job in the Chicago office becomes open. Kate in Dallas would be perfect to fill it. But the Chicago folks don't realize Kate has all the right skills and potential. Why? Existing succession-planning processes don't scale and aren't able to consider what skills people have.
Employees are told they're supposed to "manage their own careers." But, they don't have enough information on internal roles to make that happen. There are roles that are open that might be a fit for them, but they don't realize they have the skills or potential. Or, for roles that'd be great in the future for them, they don't know what they need to do to get them, like what skills or experience or certifications they may need. So they quit for more growth and more money and a new challenge somewhere else.
Remember that recent viral story about the man who spent 24 years working as an airplane cleaner and then finally became a pilot? He succeeded partly because of his tireless determination to accomplish his goal—and his company's support in sponsoring his training.
But, he also knew exactly what to do. He knew the training he needed to become a pilot.
So many employees do not know what steps to take to change their future and get a great growth opportunity internally. And so many companies could be helping them learn those steps.
Succession Planning Has Changed
For decades, we've had succession-planning software, succession-planning org charts, and company executives in charge of making sure succession was top of mind. But we never quite had the intelligence, or the data, for companies that were large, or those that were growing and hiring by the hundreds or thousands, to use to get a grip on what skills their workforces had and how people could be promoted and redeployed.
The succession planning that was being done was very static and linear; there were few thoughts like "This person in accounting has all the right skills to take that user-experience job."
The good news is that all of this is solvable at this point. There's enough technology out there to determine who's likely to quit. There's artificial intelligence that can tell someone doing one job that he or she would be able to put that skill to work in another job. And that same intelligence can be used to show employees what they need to do to grow internally.
The talent field is finally in a position to provide that kind of help to companies at scale. Whether it's the New England Patriots or a Fortune 500 company or anywhere in the world, the talent field knows it can benefit from succession planning and should be doing it for all roles, not just for people at the C-level.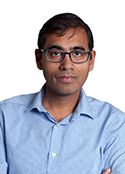 Ashutosh Garg has pioneered innovation in AI and machine learning throughout his career, driving change and business results. As CEO and Cofounder of Eightfold.ai, Garg is changing the HR industry by innovating talent acquisition and talent management through machine learning.

Previously, Garg cofounded BloomReach, an open java CMS and an AI-powered search and merchandising solution. He also spent time at Google and IBM on research teams. With 6000+ research citations, 50+ patents, 35+ peer-reviewed research publications, and the outstanding PhD thesis award for his PhD thesis in machine learning, it's fair to say that Garg is one of the world's experts in AI.

He is the coauthor of the book, What's Next for You – The Eightfold Path To Transforming The Way We Hire And Manage Talent. Garg holds a bachelor's degree from the Indian Institute of Technology, Delhi, and a PhD in electrical and computer engineering from the University of Illinois at Urbana-Champaign.