Every year, hiring managers wrestle with the question "When is the best time to hire new employees?" Some say the fall, others say the summer, and for the most part, everyone agrees that the holidays should be avoided.
The answer everyone is looking for is earlier than you think: Q1 is the best time to hire. The first quarter of the year brings a fresh start to both employers and candidates, and it's time to take advantage of it. Here are a couple reasons Q1 is the best time to hire.
Influx of Eager Applicants
By hiring in January, companies get their pick of qualified candidates. Straight off the holidays, new year's resolutions, and December graduations, candidates are reenergized and ready to start their job searches by the time the calendar flips.
January often prompts an influx of eager applicants, not just because people are reinvigorated by the new year but also because unsatisfied employees who weren't quite ready to sacrifice their holiday perks in Q4 are now raring to go. By jumping ship too early, these candidates would potentially forfeit unused vacation time and end-of-year bonuses.
By waiting until Q1, hiring decisions won't be delayed by candidates dragging their feet or trying to elongate the process. Instead, hiring managers should be able to expedite their searches with jobseekers who are prepared and ready to make a move.
Also, if a company hired extra help during the holidays, Q1 is the time temp employees start looking for something new. They're eager to find something to replace the holiday position they just left and are usually willing to start right away. Hiring managers can go through the process quicker with contract employees and get the positions they need filled sooner.
New Year, New Budgets
For many companies, Q1 usually means a new fiscal year. If there's room in the new budget, January is the perfect time to hire for additional positions because companies are in a better place to fund the search for them. By pushing hiring to Q1, it also means that companies don't have to pay out holiday bonuses to freshly hired employees. Instead, they save money by waiting, and they get to search more confidently knowing what their options are.
There is a downside to waiting until Q1 to hire: Sometimes, companies aren't ready with new budgets in January. They have positions that need to be filled, but the state of their budget is still unknown. Because hiring is dependent on how quickly and efficiently finance teams can get those budgets approved, it's not always realistic to expect an answer by January 1. Sometimes, budget delays force hiring decisions to be made in Q2.
If this is the case, a way around hiring permanent staff is hiring contract employees. Integrating a temporary or contract employee into a team is quicker, less expensive, and less complex. It also gives a company the advantage of giving a candidate a "test run" for when it eventually has the budget for full-time hires.
If the candidate performs well, it makes for an easy and a seamless transition to full time—for both the employee and the company. The employee is already immersed in and familiar with the work, alleviating a long onboarding process.
By the time Q1 rolls around, everyone needs a breath of fresh air. Candidates are ready for something new, and hiring managers are eager to fill their empty positions. By shifting hiring to the beginning of the new year, there's the advantage of a larger pool of qualified jobseekers to choose from and the comfort of knowing that budgets are exactly where companies need them. New years are all about fresh starts, and hiring is no exception.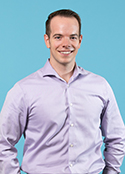 James Doherty is a Senior Vice President at WinterWyman, where he oversees a team of account managers and partners with clients on their contract and direct-hire Human Resources staffing needs. With nearly a decade of recruiting experience, Doherty is a master at client management and understanding the unique needs of the organizations in which he partners, many of which use him exclusively to fill their interim, temp-to-perm, and permanent needs. An avid international traveler, Doherty is conversationally fluent in Spanish and is a graduate of Stonehill College in Massachusetts.