by Rebecca Barnes-Hogg, SPHR, SHRM-SCP
In a world where time is money, most of us lack the time and resources to wade through a sea of résumés to filter out résumé spammers and get a manageable number of highly-qualified candidates. One of the best ways to attract the best candidates and reduce the number of unqualified résumés is writing a great job posting. With a little extra work up front, you can use your job posting to make your screening efforts smoother, more efficient, and ultimately more effective.
To save time, most recruiters post the job description. In the old days, we used to pay by the word or line for job postings. Now that everything is online and a fixed price, we've become slackers, defaulting to posting the standard job description and wondering why we don't get qualified candidates.
Job descriptions are boring, boring, boring! Even worse, most look exactly the same. Dare to be different! Catch their eye. Stand out from the crowd; make 'em go, "Whoa!"
It's a buyer's market right now and you have to think like a marketer. This means understanding how to pull in great candidates. When you attract instead of screen, you'll spend your time on a small number of qualified résumés and stop wasting time screening out the worst candidates.
Great candidates want to know what it's really like to work for your company and how their work will contribute to your company's success. I recently asked a candidate why he applied for the job I posted. He told me he was selective about applying for jobs. He felt you could throw most job postings in the air and pick one because they were all the same. But this one intrigued him because the job posting had things that made him say, "This is a company that wants to go beyond the general norm." He was intrigued and wanted to know more.
Marketing your job also means making sure your brilliant job posting gets noticed by high-quality candidates. Many candidates no longer look at job boards because the jobs are all the same and their time is in just as short supply as yours. You have to reach them in different ways.
We can't afford to use the "post and hope" method for recruiting. Actively work your personal and professional networks including social media, volunteer groups, networking groups, Chambers, Business Network International (BNI), trade associations, and other places where your candidates are likely to be either in person or virtually. If you do use a job board, do some market research and make sure your candidates will look there. Don't forget your own website and your employees as ways to market your jobs.
With a little work up front and some research, your job posting will stand out from the crowd of boring job descriptions and produce a manageable number of high quality candidates.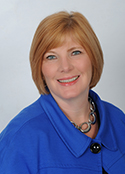 Rebecca Barnes-Hogg is a small business hiring expert and on a mission to ensure that no business is held back because they cannot hire the right people. She is a hiring mentor, recruiting strategist, and Human Resources expert. Ms. Barnes-Hogg has held a variety of HR leadership roles in corporate and non-profit organizations and is a co-author of "Rethinking Human Resources." She is a sought-after speaker on a variety of topics related to interviewing and hiring, communication, and teambuilding. Ms. Barnes-Hogg also writes for industry journals and publications on HR topics. She leverages her skills to enable her clients to hire amazing people and grow their business. Ms. Barnes-Hogg's down-to-earth and fun approach to a frustrating and time-consuming process has allowed her clients to hire the right people. Her programs bring her clients more confidence, less stress, and a bigger profit!
Ms. Barnes-Hogg holds an MA in Human Resources Management from The George Washington University and a BS in Business Management from The National-Louis University. She holds the SPHR certification from HRCI and the SHRM-SCP certification from SHRM.