by Steffen Maier, Cofounder of Impraise
There are many challenges that all managers face. Whilst these challenges can arise at any point in a manager's career, they can be particularly prevalent for newer or first-time managers. We've compiled a handy list of these challenges with tips on how to combat them, become the best manager possible, and support your team on its way to success.

Adjusting to the Role
First-time managers often find it difficult to adapt to taking ownership of their role. It can be particularly difficult managing those whom you're used to working closely with and perhaps have personal relationships with. It's important to keep these personal relationships separate from workplace practices.
You can do this by positioning yourself as an approachable and supportive manager and ensuring that the tough conversations still take place. Remember that giving constructive feedback shouldn't be seen negatively, but instead it should be seen as a way that you can help your team perform at its full potential.
Overmanaging
Whilst it's undeniably important to be there for your team and coach it to make sure you're getting the best out of each and every member—there's a fine line between managing a team well and not letting people take on their own work. Your role is to support, so make sure your team members have the space to complete their assignments and have some autonomy, whilst helping them make progress as individuals and take ownership of their development.
Whether the people you're mentoring are older, younger, or no matter how long they've been in the field, if you are able to guide them through hardships, lead them in the right direction, and help them progress in their role or career, you are succeeding as a mentor and as a manager.
Not Giving Enough Guidance
Whilst over-managing people and not providing the space to work can be an issue, the other end of the spectrum is not giving people enough input or guidance. Much as your team members likely know what they are working on, as manager it's up to you to ensure everyone is fully aware of what's expected of him or her and how work aligns and contributes to the wider company goals.
If managers are unable to communicate clear guidelines and expectations for their team members, they will, of course, be unable to take ownership of their work and ultimately be less productive. They will also have less motivation and drive to work towards their goals if they are unaware of the impact their work has on the company.
Keep the Conversation Open
No matter how things are going, it's key to keep communication frequent and open. Providing constructive feedback is not always the easiest task, but it's an essential way to ensure your team can develop and really progress within its role. It's equally important, however, that you also celebrate its successes, however big or small.
Giving positive feedback to your team when things have gone well, or when particular team members have shone, is key to letting people know they're valued. It will increase engagement; people will know that their work is recognized and that they're appreciated. Introducing or optimizing the use of 360-feedback is also a great practice to really keep communication open and useful for everyone.
Embrace Upward Feedback
Giving feedback aside, it can be difficult—particularly as a newer manager—to receive constructive feedback—it's not always the easiest to handle, particularly when still adjusting to managerial responsibilities. But it's important to see such feedback as positive; something which will help you develop in your career and become the best, most supportive, and efficient manager possible.
It's not only key to receive this upward feedback with an open mind but also to ensure you act upon it appropriately. Following up feedback either by discussing with your team what the next steps are and how they feel things could improve or by taking the next steps based on people's feedback really shows your team that you value their input. This will build trust and respect for you and ensure that everyone is on the same page moving forward.
What to Share?
Transparency is something greatly appreciated by modern workforces. An employee engagement survey from Harvard Business Review actually found that 70 percent of those asked said they were most engaged when managers shared continuous updates and insights into company strategy. With many organizations adopting a flatter, less hierarchical approach, and employees taking more ownership of their roles, it's not so much a case of management being the only ones in the know.
Many modern employees value transparency and candidness over more traditional practices. And, with an increasing amount of companies taking transparency even further, with salaries made public knowledge, and other less traditional information being disclosed to employees, it's clear people like to be aware of what's happening in the company. To be a manager whom people trust and feel comfortable with, don't close yourself off—consider keeping your employees in the loop about what's happening.
Start receiving feedback from your team today to help you become the best manager you can be!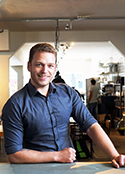 Steffen Maier is cofounder of Impraise a web-based and mobile solution for actionable, timely feedback at work. Based in New York and Amsterdam, Impraise turns tedious annual performance reviews into an easy process by enabling users to give and receive valuable feedback in real-time and when it's most helpful. The tool includes an extensive analytics platform to analyze key strengths and predict talent gaps and coaching needs.