One of the most common themes of RecruitCon 2018 was social media recruiting. Whether it's recruiting via LinkedIn, Facebook, Twitter, and even Snapchat, making sure you're on social media for starters is a huge step in recruiting top talent.

In Kristin Dudley's preconference session, Growing Your Online Presence: How to Build Out Your Social Media Recruiting Strategy, she discusses the appropriate level of engagement by using a formula she picked up from Craig Fisher of Allegis: five gives to one ask. What does this mean?
According to Dudley—who is also CEO of Co-Create—we are numb to ads, and if you use your profile as an endless advertisement, you risk losing an audience filled with top talent and potential candidates. Dudley says to use your profile to tell your stories, be transparent, be human, and build trust.
She adds that the goal of social media recruiting is to establish trust, saying, "you're out to build a community." People are three times more likely to trust company information from employees rather than from the brand or CEO. Therefore, your strategy should reflect the "human" approach.
5 Gives to 1 Ask
The best way to be "human," according to Dudley, is to go with the "five gives to one ask" approach. This means you should be sharing five unique things about your company, and after five posts, you can then share one asking people if they're interested in a job.
Dudley says to make sure your "five gives" tell a story—for example, showcasing your company culture, posting third-party content that is relevant to your company, sharing résumé writing tips, etc. You want to position yourself as a source of knowledge—not just an ad space but a profile candidates can come to know and trust. Once you've built that trust, you can turn around and ask, "Do you know someone who would be good for this role?"
Not only are you building trust among potential candidates but you're also getting ahead of the "poor candidate" experience. All too often, candidates cite a lack of communication as a reason for a poor experience. By building trust early on, you're eliminating the possibility of a bad candidate experience.
Dudley reminds us that we need to speak from the middle, from the heart—and that storytelling is the heartbeat of the employer brand. You'll know when your strategy is working when you start attracting the right people.
If you missed this exciting event, fear not! Early registration for RecruitCon 2019 is now open. Hope to see you in Austin, Texas!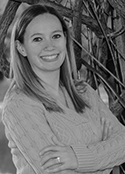 Melissa Blazejak is an Editor for Recruiting Daily Advisor and L&D Daily Advisor. She has written articles for HR.BLR.com and HR Daily Advisor and has been at BLR since 2014. She graduated with a BA of Science, specializing in Communication, from Eastern Connecticut State University in 2008. Most recently, she graduated in 2014 with a MS of Educational Technology. Llamas are her spirit animal.