Just because your team is not operating in a single, centralized location does not mean you can't develop strong bonds between collaborators. In fact, a distributed setup offers an array of possibilities to root team spirit in your company through processes, traditions, and events.
Here are five best practices for effective teambuilding inspired by the remote work life at Loomly.
1. Develop a Culture Code
First things first: If you expect your team to play by the rules, you have to set the rules. This is especially true in a remote work environment, in which online interactions and asynchronous communications make it harder for newcomers to pick up the signals of what company culture expects from them.
Crafting a culture code that clearly outlines the organization's values and presents the daily principles that should guide behavior and decision-making is the foundation for healthy teambuilding in the long run. For example, here is what Loomly's culture code looks like.
2. Institute a 'Show and Tell' Tradition
Once everyone is clear about what is expected, the next most important aspect of teambuilding is helping each collaborator understand what the others do. Beyond the obvious hierarchical and functional purpose of the exercise, this fosters empathy by enabling teammates to put themselves in each other's shoes, better understand the challenges they face on a daily basis, and appreciate the value they bring to the company.
A very simple yet effective way to accomplish this is to empower team members to share their work with the rest of the company. One way we do this at Loomly is through a "Show and Tell" session during our monthly (online) all-hands team update, in which employees have the opportunity to present a recent project they are proud of.
3. Celebrate Every Victory
Remote work has a tendency to decrease distraction for team members, which is good for productivity. As a side effect, it's easier for collaborators to keep their heads down in work and have fewer interactions than they would have in a physical office.
Luckily, few things unite a team like winning. That's why you should proudly share and celebrate all victories—big or small—with everyone on the team. From positive feedback from customers or clients to revenue milestones and new product updates, all these events are causes for celebration and favor a collective sense of achievement.
4. Spend Some Time Together (Outside of Work)
When teams collaborate day in, day out under the same roof, plenty of opportunities to spend time together arise beyond regular work hours. Think: corporate sports competitions, holiday parties, and after-work drinks. By nature, a remote team has fewer (or none) of these opportunities to bond outside of pure work.
That's why team retreats can be the perfect chance to spend time together in real life—and bond over things beyond work. For example: Every quarter, all Loomly team members gather in a physical location to enjoy a few days off. We do not work or even talk about work. Instead, we blow off steam, engage in fun activities (such as escape rooms, indoor skydiving, and food tours), and share a couple of meals.
5. Encourage Feedback
Last but not least, keep in mind that teambuilding, even more so in a remote environment, is not a onetime task but rather an ongoing process that requires continuous improvement. Indeed, although online communication and team performance can always indicate lower morale or friction among collaborators, the speed of company life can also lead to problems being overlooked.
Having an "open door" policy—even when the door is made of pixels—is good. Formally building a feedback loop into company processes is better. As an example, as part of our quarterly performance reviews, all Loomly team members are asked about their level of satisfaction with multiple aspects of their job, including "team and culture fit," and are prompted to make suggestions about how to make life at the company better.
Bonus: Make Room for Spontaneity
Engineering company culture and processes to support teambuilding in a remote environment is an excellent approach to foster healthy relationships among coworkers and develop a competitive advantage through a strong collective spirit.
Beyond that, the final secret to building a strong distributed team remains unbelievably trivial: making space for genuine interactions in a digital break room. At Loomly, this takes the shape of a #watercooler Slack channel, on which anyone on the team is welcome to share his or her local weather forecast, cute pet pics, or killer food recipes. It's as simple as that.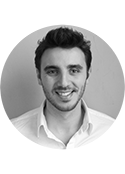 Thibaud Clément is the CEO and Cofounder of Loomly. Since graduating from both Grenoble Ecole de Management, France, and the University of Ottawa, Canada, back in 2011, Clément has worked with his wife and business partner, Noémie, launching four successful businesses.

A self-taught programmer, Clément began building software to make Noémie's job easier in 2015. Back then, the two were managing a marketing agency and struggling with the process of creating and sharing editorial calendars with clients through spreadsheets. Encouraged by early feedback from their own customers and peers about their prototype, Clément and Noémie decided to make it available to other marketing teams; thus, Loomly was born.

Along with devising the overall company strategy and vision, Clément actively leads all fundraising and product development efforts. Connect with Clément on Twitter and LinkedIn.

Fun Fact

With Noémie, Clément traveled around the world for 1 year (to study innovative business models), bootstrapped and sold a candy subscription business (Candyscovery), published a French business book (Se Lancer Sans Attendre), and founded the marketing agency Madalana.