How much vacation time do employees accrue?
According to the survey of 807 organizations, most reported that they provide 2 weeks of vacation time to employees in their first year of employment while most employers provide 3 weeks of vacation to those with 5 years of employment. Nearly all employees with 10 or 15 years of service receive at least 3 weeks of vacation per year (around 90% and 92% respectively).
How much sick time do employees accrue?
While 24% of employees accrue 1 week or less per year, the majority of employers (52%) report that their employees accrue anywhere between 6-12 days per year. Interestingly, just over 1 in 6 employers (17%) reported that they provide no paid sick time to their employees.
The Paid Time Off Survey also covers paid time off (PTO) policies, as well as employer practices regarding bereavement leave, military leave, jury duty, and voting time. The survey also includes information about employer practices regarding the deduction of accrued paid leave for employees who take leave under the Family and Medical Leave Act (FMLA) and workers' compensation, as well as policies for rollover of unused leave, cashing out leave, and donating leave.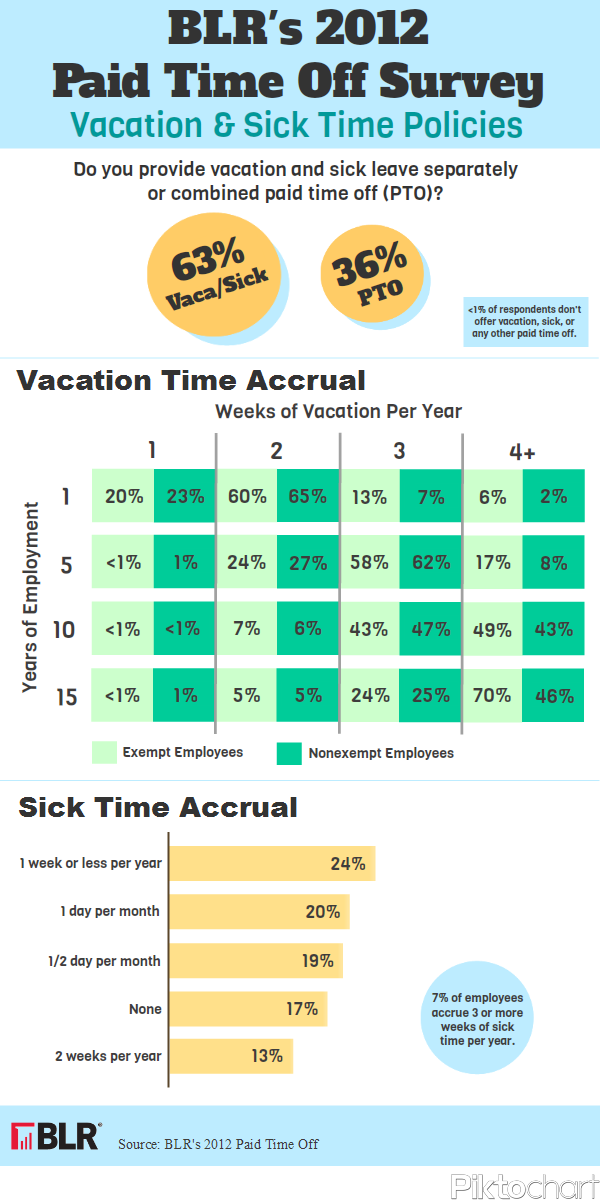 BLR's 2012 Paid Time Off Survey: Vacation and Sick Leave Policies – An infographic by the team at HR.BLR.com