In yesterday's post, Managing Director of Stanton Chase, Paul Herrerias, joined us to discuss ways to recruit and retain chief financial officers. One key way to retain CFO talent is through proper onboarding. Today, Herrerias will share his tips and best practices for onboarding your new CFO.

Recruiting Daily Advisor: In your opinion, why is the onboarding practice so important when it comes to the CFO?
Herrerias:
 It is a hot market for CFOs. There has never been a higher premium placed on the CFO role. In today's complex world, where managing finances, corporate performance, and marketplace data is critical. That said, the CFO role is now experiencing the highest turnover in the C-suite, which is the case whether the company's equity is publicly traded, private-investor held, or held by a founding family.
The message to business owners, CEOs, boards of directors, Human Resources, and the leadership team is that they should give this hire and the onboarding process their utmost attention. Once the hiring decision is made, treat this hire with the importance the role carries within and outside the organization and reinforce the executive potential this individual brings to the position.
After all, companies invest a great deal of time and money when selecting a CFO, and this role can have a pervasive, positive impact across all departments.  One good hire can "raise all ships" for the leadership team.
Recruiting Daily Advisor: That certainly makes sense. What are some of the specifics that will make onboarding successful?
Herrerias:
Once the hire is made, thoughtful and respectful onboarding can encourage quicker performance, maximum potential impact, and longevity. Give the hire the respect and authority to carry out his or her critical responsibilities; review with them the desired short- and long-term impact; think of each stakeholder in the CFO's success and develop a plan for integration with those stakeholders.
Address both the performance expectations and the personal relationships required for success and be clear in sharing the performance expectations for this role by stakeholder. Then set up a positive working relationship with all stakeholders (CEO, board, leadership team, customers, suppliers, direct reports, etc.). Lastly, help the CFO set organizational priorities for achieving these expected goals.  No one is successful when trying to accomplish everything at once, but by doing "First Things" first.
Given my recruiting experience and work in organization development, I break down the activities into four buckets:  purpose, structure, operations, and feedback. Think of what the CFO will need to be successful in each bucket.
For example, has he or she been given the information necessary to understand the
purpose:
vision, mission, and strategic plan? Is there a clear understanding of the organizational
structure
: roles/authorities, communication styles, and resources of key players inside and outside of the organization? How will the CFO learn the
operations
of the business at a level of scrutiny that will allow him or her to understand and improve monthly performance metrics? How does the company currently gather, analyze, and disperse
feedback
to these stakeholders and old them accountable?
Recruiting Daily Advisor: How is this respect and authority conveyed to the new CFO?
Herrerias:
This is the cornerstone of the onboarding process—development of a strong relationship with the CEO. This makes a strong statement to the new CFO, those in the C-suite, and other mid- to senior-level employees that this new individual is important to the whole team.
Second, establish good working relationships with the board and each member of the executive team, as well as the CFO's inherited team under his or her authority. Think of this CFO's interactions and communications as flowing water—you want healthy streams and free-flowing energy in full support of the organization's mission and culture, along with implementations of its strategic plan.
Recruiting Daily Advisor: It would appear that the new CFO must be sensitive to a new corporate culture and open to critical feedback. Is this true?
Herrerias:
Absolutely. The CFO should welcome feedback from colleagues who have more institutional knowledge. Again, this communication should include clear expectations for the position and convey the organizational vision and direction. These open lines can foster credibility, acceptance, and integration into the company culture, as well as commitment to the vision, mission, and strategy. The price of access to this information is the productive use of the feedback.
Implied in this scenario is the CFO's ability to handle conflict, build alignment, communicate effectively, and stay focused on what matters most. This access to people and information will also send a clear message to the new CFO that he or she has the appropriate authority and resources to implement the company's plans, and he or she must handle them responsibly and protect that trust.
Recruiting Daily Advisor: In your experience as a recruiter, what are some of the issues that should be communicated to the new CFO?
Herrerias:
In all cases, the greatest responsibility for the CFO is that of organizational sustainability—in financial health, customer loyalty, employee morale, culture, values, and marketplace brand. Financial health includes optimizing the return to shareholders, with a focus on guiding the company to predetermined goals, and being able to finance future operations and growth. Share with your CFO successes and risks to organizational sustainability.
In recent years, many organizations suffered from an inability to access timely and accurate operational feedback due to changes in technology, systems, training, staffing, or cross-border communications. CEOs and leadership teams typically want timely, accurate financial information that can effectively manage risk while providing a road map to the future. Let your CFO know what else you need to be effective in your role on the leadership team, as an owner, or as a board member.
Recruiting Daily Advisor: So, are you saying that the open line of communication must encourage transparency and accurate reporting at all times?
Herrerias:
That is absolutely the case, and we continually stress the importance of that message to CFO candidates. It is the first step in CFOs' developing a sense of personal satisfaction and recognizing that their efforts have a positive impact on the organization.
CFOs are more likely to stay with a company if those on the leadership team respect one another's contributions and are transparent in their motivations—namely, to achieve the mission while living the cultural values. CFOs, like all leaders, need feedback on how well they are communicating, partnering, reporting, and sharing. Everyone shares responsibility for transparency and effective communications, and these should be part of the organization's culture.
Recruiting Daily Advisor: What role does the CEO play in the CFO's success?
Herrerias:
CEOs get the best results when they focus on a few key elements for executive engagement:
CFOs appreciate opportunities for personal and professional development.
CFOs want to make a difference; those CFOs citing high levels of satisfaction are those inspired by their CEO in pursuit of the strategic plan and share progress on an ongoing basis.
CFOs like being on the CEO's team, witnessed by the rapport and intimacy developed through the sharing of goals, values, expectations, and disappointments.
Together, the CEO and CFO hold the entire organization accountable to the strategic plan, thanks in large part to a successful onboarding process when the CFO is hired.
Using Herrerias' guidance above, you'll effectively onboard your new CFO in no time! In part three of this article series, Herrerias will discuss the ways this role has changed, and what the future has in store for CFOs.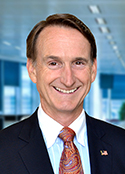 Paul Herrerias is the Managing Director of the San Francisco/Silicon Valley office of Stanton Chase, a globally retained executive search firm with more than 70 offices in 45 countries. He cofounded the Global CFO practice and currently leads the Professional Services-North America/Latin America Industry Practice Group. Herrerias earned a master's degree in Human Resources and Organization Development and a bachelor's degree from the University of San Francisco, as well as a CPA license in the state of California.